The therapeutic monoclonal antibody, Infliximab (IFX), is a widely used drug for the treatment of several inflammatory autoimmune diseases. However, approximately 10% of patients develop anti-infliximab antibodies (ATIs) rendering the treatment ineffective. Early detection of underexposure to unbound IFX would result in a timely switch of therapy, which could aid in the treatment of this disease.
In this webinar, a sensitive, robust and cost-effective method will be presented for the bioanalysis of IFX with LC–MS/MS by means of a target-based pre-analytical sample purification. Low volume and low cost of consumables/sample highlight its feasibility in preclinical studies.
Already have question for our speaker? Tweet us @BioanalysisZone and use #BZwebinars

What will you learn?
How to develop a confident, robust, reliable, and sensitive quantitation assay for proteins
Ways to increase efficiency in sample preparation
The abiltiy to optimize LC and MS methods for performing protein quantitation assays with confidence
How to address critical challenges in a preclinical environment: from achieving sensitvity to reducing cost/sample
Who may this interest?
Bioanalytical Scientists
Sr. Scientists, Group Leaders, Directors, Sr. Directors
Large Pharma, small Pharma, Biopharma, CROs
For Research Use Only. Not for use in diagnostic procedures.
Speaker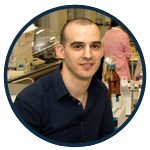 Mohsin El Amrani
Department of Clinical Pharmacy
Division of Laboratory Medicine and Pharmacy, University Medical Center Utrecht, Utrecht, The Netherlands
Mohsin El Amrani was born in Utrecht, the Netherlands on September 18, 1978. He obtained a high school degree at the 'Delta Collage' in Utrecht in 1995. In 1999 he completed a degree at 'ROC Utrecht', obtaining a diploma as a laboratory technician. In 2002 he obtained a Bachelor degree at the Institute of Life Sciences and Chemistry (Hogeschool van Utrecht) majoring in Analytical Chemistry. In 2014 he obtained a Master's degree in Analytical Sciences at Vu University in Amsterdam. Currently he is working at UMCU where he holds a position as a research analyst and PhD candidate in proteomics.
For a full list of other webinars available on Bioanalysis Zone please see here.