Thursday 29 November 2018 – 07:00 [PST] 10:00 [EST] 15:00 [GMT]
Not your time zone? Find conversion here
This webinar compares and discusses different approaches that can be used to assess key assay parameters for PK and biomarker LBAs, as well as the advantages and disadvantages of each approach. This webinar also summarizes a systematic approach that can apply to guide LBA method development and optimization with a suggested way to interpret parallelism data.
What will you learn?
Background and challenges for LBA method development
Parallelism experiment and parallelism data interpretation
Systematic LBA method development and optimization strategy
Who may this interest?
Bioanalysis professionals
Bioanalysis field- related graduate students
Quality unit professionals
Regulatory agents
Speaker
Our BRSA winner has yet to be announced – please watch this space!
About the Bioanalysis Rising Star Award
The Bioanalysis Rising Star Award (formerly the New Investigator Award) is an annual prestigious award recognizing the most promising early-career scientists in the field of bioanalysis. Sponsored by Waters Corporation (MA, USA), our vision is to promote the work of highly talented researchers offering a springboard to help establish themselves in the exciting world of bioanalysis.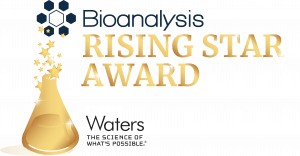 In association with