Flow cytometry is a very powerful and reliable alternative to many other methods used for clinical drug development. Consider that it can simultaneously measure multiple parameters on tens of thousands of cells, with a resolution down to a single cell level, robustly and rapidly (greater than 1000 samples per day).
Understandably, in recent years, flow cytometry techniques have established a foothold in clinical drug development because of their ability for immunophenotyping heterogeneous samples; in turn, identifying populations and subpopulations of immune cells, along with their viability and immunogenicity status (e.g., proliferation and intracellular cytokine production).
This webinar will provide an overview of the current applications of flow cytometry in the drug development process and the future outlook of the flow cytometry field in a regulated environment.
The panelists discuss:
How to use flow cytometry in drug development.
Different applications of flow cytometry (i.e. functional assays, gene and cell therapies, CAR-T).
Best practices and key requirements for performing flow cytometry in a regulated environment.
Emerging technologies in the field of flow cytometry.
What does the future hold for flow cytometry?
Who may this interest?
Scientists and management involved in pharmaceutical biomarkers, bioanalysis and translational biology.
Pre-clinical and clinical scientific project leads.
Those wishing to gain a better understanding of the best practices for the utilization of flow cytometry in their drug programs.
Speakers: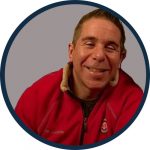 Brian Maybruck
Senior Scientist- Immunology & Flow Cytometry, Eurofins Viracor
Eurofins Viracor, Inc.
Brian Maybruck joined Eurofins in 2019 as a Senior Scientist following his position as a Senior Scientist at Washington University Medical School, Department of Microbiology (MO, USA) working on multiple immune host response projects in the area of chronic microbial infections. With over a decade of experience, Maybruck brings a wealth of experience in the field of immunology and cell-based assay development in flow cytometry, specifically as it relates to immunological related diseases such as cancer, chronic microbial infections and allergic disease. He has authored over 20 publications in the field of immunology and flow cytometry, including his most recently published work (doi:10.1128/mBio.02264-19). The medium-throughput flow cytometry screen he describes in his most recent paper could be used as a model to more reliably identify effective drugs to combat disease.
In association with: