Join Frontage Laboratories, Inc. (MA, USA) for the presentation of 'Biomarker bioanalysis support to drug development and personalized medicine'. 
Biomarkers play a critical role in drug development, personalized medicines and clinical diagnostics. Bioanalytical and biological measurement of pharmacodynamics/monitoring biomarkers underwent explosive growth in the past decade. This webinar discusses the trends in biomarker research, presents the comprehensive analytical platforms in support of disease biomarker panels and also explores regulatory perspectives in developing and validating these measurement methodologies and processes.
This webinar will cover:
Biomarker 

a

nalytical 

p

latforms

 

Current trend

s 

and challenges

Disease biomarker panel in support of personalized medicines and diagnostics

Regulation guidance on biomarker quantitation and validation

Case studies
Who may this interest?
Director levels and above in Pharmaceuticals, Biotech and Therapeutic Companies
Speaker: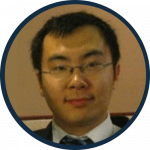 Kai Wang 
Director, Bioanalytical Services 
Frontage Laboratories, Inc. (PA, USA)

Dr Kai Wang obtained his bachelor's degree in Nanjing University, China. He completed a PhD in Chemistry from Rutgers University-New Brunswick (NJ, USA). Dr Wang's graduate research focused on the experimental and computational methods to explore the mechanisms of biological and organic reactions. Various types of mass spectrometry and computational chemistry were utilized to conduct the studies.  
 Dr Wang started his bioanalytical career after he graduated from Rutgers University in 2014 and joined Frontage Laboratories, Inc. as Senior Scientist. He was promoted to Group Leader in 2015 and Lab Manager in 2018. Dr Wang's current research focus is in the area of bioanalytical method development and validation, including quantitation of small molecule drugs and metabolites, as well as large molecule drugs and biomarkers such as oligonucleotides, proteins, peptides and glycosaminoglycans. He is very experienced in bioanalytical method development and validation for liposome or nano-particle encapsulated drugs. Dr Wang's research interest also involves developing bioanalytical methods using novel techniques such as dry blood spot (DBS) sampling, microsampling and analyte derivatization. 
Dr Wang has published various peer-reviewed articles and book chapters on physical organic chemistry and bioanalytical chemistry.  
Dr Wang is an associate Editor for Journal of Applied Bioanalysis. 
In association with: