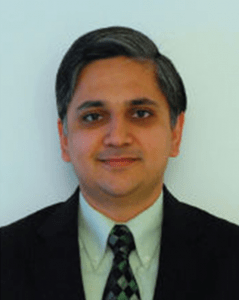 Nominee: Mandar Vivekanand Kulkarni, M/Z Diagnostics Inc, USA
Nominated By: Michael E. Hodsdon, Yale University, USA
Supporting Comments: I have had the honor of mentoring Kulkarni both during a post-doctoral fellowship and as a starting scientist at a local 'start-up' biotech company, M/Z Diagnostics. Mandar was trained as a cell biologist and did not begin analytical work until joining my lab; however, he has a natural talent for bioanalysis. As the senior scientist at M/Z Diagnostics, he has blossomed into a true leader. In a short period of time, Kulkarni has mastered the techniques of clinical microbiology and LC–MS/MS analysis. He is also a visionary within the company, offering novel and innovative solutions to problems. I would like to offer my highest recommendation for Mandar Kulkarni's consideration.
---
What drove you to choose a career in bioanalysis?
A strong desire to make a difference in patients' lives is something I inherited from my family, which consists of many physicians. While in pursuit of my doctoral degree in biochemistry and molecular oncology, I became very interested in direct application of my technical expertise. Subsequently, I worked on target validation for drug development during my postdoctoral fellowship, but when the challenging opportunity of leading a team to develop novel diagnostic assays that would significantly improve patient care came by, I could not resist being a part of it, although it was in fields that I was not formally trained in.
Describe the main highlights of your bioanalytical research, and its importance to the bioanalytical community both now and in the future
As a research scientist at M/Z Diagnostics I have led efforts to develop a novel LC–MS assay to detect carbapenemase activity from patient samples. Carbapenemase expression enables bacteria to become resistant to the carbapenem class (last defense) of beta-lactamase antibiotics. Spread of infections by such bacteria poses a significant public health threat and costs the health care system dearly. A rapid assay for detection of carbapenemase activity is required to reduce the impact of such infections. Without any knowledge of LC–MS or microbiology, development of a rapid analytical LC–MS based assay for clinically significant bacterial infections highlights my ability to apply my analytical skills to clinically relevant problems that were outside of my field of formal training. The assay exploits chromatographic separation of an antibiotic from its enzymatically hydrolyzed metabolite, combined with MS detection. The detection of chromatographically separated parent and its subtly modified metabolites for diagnostics is novel and will allow acceptance of the LC–MS platform for use in the clinical diagnosis arena and trigger development of other assays for diagnosis of diseases that are manifested due to subtle changes in analytes that can be separated by LC and detected by ESI-MS.
Describe the most difficult challenge you have encountered in the laboratory and how you overcame it?
At the commencement of my postdoctoral fellowship I had completed 10 years of research in the field of cell biology and molecular oncology. Being thrust into a position to direct a team to develop a clinical diagnostic LC–MS assay for multidrug resistant bacterial infections combined with the responsibility of project management, grant writing and all on-site research administration was a big challenge that I welcomed. With two short courses, at AB SCIEX and the MSACL, and independent analytical thinking, I quickly became highly proficient in LC–MS method development. Strong research skills backed by great resourcefulness allowed me to gain a deep understanding of the clinical relevance of our application. In a short while we had developed and clinically validated our assay and published our work. In parallel, to ensure smooth execution of the project, I created and managed a project development plan for product development and clinical trials, and efficiently met all the projected deadlines. Lastly, acquisition of extramural NIH funding (US$150,000) as a PI to support research activity at M/Z Diagnostics is also a significant highlight of this challenging phase in career development.
Where do you see your career in bioanalysis taking you?
Building a solid foundation for a successful career in bioanalysis has been very rewarding thus far. In the immediate future clinical trials and FDA approval of our assay will lead to a groundbreaking change in patient care and acceptance of a novel technology in hospitals across the world for clinical diagnostics. The experience gained from completion of the carbapenem resistance project will allow smooth execution of the development of other similar assays for diagnosis of broad spectrum cephalosporin resistant infections. The experience of directing the research from inception to bringing two products to the market will enhance my ability to manage more challenging research projects. I envision using my strong analytical and management skills to challenge my creativity and turn novel ideas at the bench into tangible products that make a real difference to the lives of patients.
How do you envisage the field of bioanalysis evolving in the future?
Some of the current major challenges in bioanalysis include increasing the sensitivity, specificity, and throughput of existing assays and/or development of novel assays that will reduce the time to detection/diagnosis. This will be achieved by implementing improved strategies for detection methods and applying novel technology to transform new ideas into cutting-edge tools. With the help of the modeling capabilities of new bioanalytical computational software, we will have a better understanding of clinical problems, and can develop specific assays. The dynamic interaction of technological advances and computational bioanalysis will pave the way for great success in this field. Lastly, efficient automation and ease of use will be a key aspect for adoption of newly validated tests. I believe the convergence of many advances in different areas of bioanalysis will enable the evolution of the next generation of diagnostics and drug development, which will provide the physician with critical information for appropriate personalized medical treatments.
Please list 5 of your recent publications, and select one that best highlights your career to date in the field of bioanalysis.
Peaper DR, Kulkarni MV, Tichy AN et al. Rapid detection of carbapenemase activity through monitoring ertapenem hydrolysis in Enterobacteriaceae with Liquid Chromatography (LC) tandem mass spectrometry (MS/MS). Bioanalysis 5(2), 147–157 (2013).
Kulkarni MV, Franklin DS. N-Myc is a downstream target of RET signaling and is required for transcriptional regulation of p18Ink4c by the MEN2A-specific mutant RETC634R. Mol Oncol. 5(1), 24–35 (2011).
Kulkarni MV, Tettamanzi MC, Murphy JW et al. Two independent Histidines, one in human prolactin, and one in its receptor are critical for pH dependent receptor recognition and activation. J. Biol. Chem. 285(49), 38524–38533 (2010).
Joshi PP, Kulkarni MV, Yu BK et al. Simultaneous downregulation of CDK inhibitors p18INK4c and p27Kip1 is required for MEN2A-RET mediated mitogenesis. Oncogene. 26(4), 554–570 (2007).
First choice: Peaper DR, Kulkarni MV, Tichy AN et al. Rapid detection of carbapenemase activity through monitoring ertapenem hydrolysis in Enterobacteriaceae with Liquid Chromatography (LC) tandem mass spectrometry (MS/MS). Bioanalysis 5(2), 147–157 (2013).
Reasoning: Work published in Bioanalysis is an excellent representation of my work in the field of bioanalysis. Specifically, it highlights development of a novel analytical method for diagnosis of multidrug resistant bacterial infections on an LC–MS platform that has previously been limited to clinical research laboratories only. US FDA approval of this assay will lead to adoption of a new technology in the clinical lab and spur development of other assays that are suitable for this platform.