The Future Science editorial team is delighted to bring you the second edition of The Bioanalysis Glossary, which we hope continues to be regarded as an essential resource for everyone who works in bioanalysis or related fields.
Over ten leading bioanalytical experts from industry and academia have been working closely with us to provide a comprehensive update. We are very much committed to ensuring we keep moving with this progressive field and reflecting on this, and the emerging novel techniques in bioanalysis, this updated edition includes over 40 new terms and a new section incorporating commonly used equations by bioanalysts across the field. With increased globalization in drug development, it is now more important than ever before that scientists speak the same bioanalytical language.
View the full Glossary here.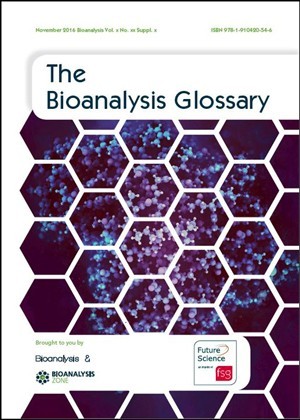 What is Bioanalysis?
The quantitative or qualitative measurement of endogenous or exogenous analytes in biological matrices, including tissue, blood, serum, urine or other body fluids.
What is a Biomarker?
Protein or small molecule indicative of homeostasis or a disease state, the concentration of which can indicate disease progression or a response to a therapeutic intervention.
What are Biosimilars?
Also known as 'follow-on biologic'. Subsequent version of an innovator biologic product.