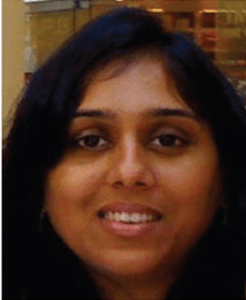 Nominee: Neha Saxena, CSIR-Indian Institute of Toxicology Research, India
Nominated By: Mukul Das, CSIR-Indian Institute of Toxicology Research, India
Supporting Comments: It is a great pleasure to recommend Neha Saxena for the Bioanalysis Young Investigator award. Neha worked under my supervision as a PhD student and showed her extraordinary interest and knowledge as a bioanalytical chemist. She worked in my laboratory as a Research Fellow, for which she was awarded prestigious All India CSIR-UGC NET fellowship by Council of Scientific and Industrial Research, India. Her area of work relates to surveillance and safety assessment of commonly encountered mycotoxins including Patulin and Ochratoxin. Later, she studied the mechanism of toxicity of Patulin in dermal tissue and also worked in the new area of nanotoxicology. With her sincerity and scientific acumen she was able to publish her work in few outstanding journals. One of her findings was cited on a cover page of the best toxicology journal, Toxicology and Applied Pharmacology. During her stay in my laboratory she learned and applied several sophisticated and advanced techniques used in food toxicology/cancer biology research vis a vis HPTLC, HPLC, LC–MS, spectrophotometry, spectrofluorometry, immunohistochemistry, flow cytometery and ELISA. Neha is certainly a promising scientist who has shown full capacity for analytical thinking, ability to organize and formulate idea and genuine interest in basic research. I am sure that she will achieve great success in her future research and strongly recommend her candidature for Bioanalysis Young Investigator Award 2013.
---
What drove you to choose a career in bioanalysis?
While pursuing my master's degree in Chemistry, I got theoretically exposed towards the growing use of sophisticated analytical tools in this technologically driven research world. Driven by this state of art, I always imagined the pleasure that I would attain from working on diverse research problems. Needless to say that, identification of chemicals/biomolecules is a growing demand in all research areas that may directly or indirectly benefit the human society.  Further, my strong fascination and passion towards learning the growing technology in bioanalytical field, made me pursue my research career and join Food Drug and Chemical Toxicology Group at a renowned toxicology institute, CSIR-Indian Institute of Toxicology Research (CSIR-IITR), Lucknow, India.
Describe the main highlights of your bio analytical research, and its importance to the bioanalytical community both now and in the future
I worked in a well-equipped research laboratory where I tried to gain hands on experience working on sensitive analytical instruments. Throughout my research tenure I got exposed to several undergoing projects. These diverse projects involved quantitative analysis of xenobiotics, food contaminants, food adulterants and their metabolites in biological samples. Screening and evaluating the bio-transformation of these chemicals is highly relevant in terms of risk associated to human population. My PhD work primarily focused on mycotoxins that pose a worldwide threat as a food contaminant. Based on the level of carcinogenicity these mycotoxins are defined as different class of carcinogens by the International Agency for Research on Cancer. I made my contribution towards characterization of hazardous mycotoxins, such as aflatoxin, ochratoxin and patulin. The primary goal of my thesis work was to screen a mycotoxin, patulin, and evaluate its fate as a toxicant in biological system. There were few troubleshoots and complexity dealt during analytical investigation of this class-3 mycotoxin. Consistent efforts revealed the levels of patulin in apple products and their likely intake in Indian population. These are the main highlights of my bioanalytical research that may provide relevant information and help to further investigators working in the area of mycotoxins.
Describe the most difficult challenge you have encountered in the laboratory and how you overcame it?
The difficulty that I encountered in my research tenure was during quantification of a fungal toxin, patulin in apple products. This low molecular weight compound when analyzed with high-performance LC coupled with UV detector was giving  exceedingly high levels of patulin-based on retention time and peak area. It was extremely difficult to believe as the values were highest of all the previously reported values across the globe. Modifying the extraction and analysis procedure we were able to conclude the interference of a similar compound 5-HMF in patulin analysis that was co-extracted with patulin. To get an accurate result with low amount of analyte, analysis was performed via more sensitive and advanced method LC–MS/MS. Resolution of the two peaks was performed under different ionization mode selecting the same ionization source as ESI.These detection procedures appearing simple are time consuming and involves an extra understanding and effort for a reliable data. I was fortunate to be guided with people having several years of experience in bioanalytical field. Their presence helped me a lot and served as a constant source of motivation to think and deal with the technical problems.
Where do you see your career in bioanalysis taking you?
Bioanalysis is a specialized part of analytical science supporting all phases of drug development. It is meant for the quantitative determination of drugs, their metabolites and macromolecules like DNA and proteins in biological matrices. Apart from its abundant use in pharmacological inventions bioanalysis offers identification of carcinogens and their bio-markers in disease state. Working in a Food Toxicology Laboratory provided me an opportunity to learn and apply the technical outbreaks in quantification of chemical moieties extracted from food matrices. I can visualize my career in bioanalysis taking me a long way dealing with analysis of chemical toxicants and biomolecules that may help to resolve complex issues related to human health. I also wish to expand my knowledge and research in the area of metabolomics simultaneously dealing with the unknown metabolite characterization. I am strongly motivated to keep myself abreast with the growing advancement in technology relevant to bioanalytical research. In future, I hope to explore new innovative tools and techniques and offer my services to this highly competitive technical area.
How do you envisage the field of bioanalysis evolving in the future?
Bioanalysis is a rapidly growing field that is always associated with a challenging environment. This field has shown enormous usage in pharmacology and PK. It has evolved its application in food safety which is a pre-requisite for human health. I perceive even the most happening research area of cancer biology/toxicology integrating well with the field of bioanalysis. The handling of high-throughput equipment is a labor intensive process and I foresee the growing need of automated equipment that will lead to consistency, method robustness, time efficiency and a higher success rate. In recent years the developments in technology led to the development of efficient tools like LC–MS to resolve complex issues. Yet there is a scope for further advancement of LC–MS and other techniques that will facilitate microdosing studies with precision and accuracy in shorter time. This will aid in the better analysis of PK and metabolic profiles of macromolecules such as DNA and proteins. I envisage the field of bioanalysis expanding its application to the area of modern research particularly metabolomics.
Please list 5 of your recent publications, and select one that best highlights your career to date in the field of bioanalysis.
Saxena N, Dwivedi PD, Ansari KM, Das M. Patulin in apple juices: Incidence and likely intake in an Indian Population. Food Additives and Contaminants 1, 140–46 (2008).
Saxena N, Ansari KM, Kumar R, Dhawan A, Dwivedi PD, Das M. Patulin causes DNA damage, leading to cell cycle arrest and apoptosis through modulation of Bax, P53 and P21/waf1 proteins in skin of mice. Toxicology and Applied Pharmacology 234, 192–201 (2009).
This article was cited as Cover Page of the journal.
Saxena N, Ansari KM, Kumar R, Chaudhuri BP, Dwivedi PD, Das D. Role of mitogen activated protein kinases in skin tumorigenicity of Patulin. Toxicology and Applied Pharmacology 257, 264–271 (2011).
Sharma V, Shukla RK, Saxena N, Parmar D, Das M,  Dhawan A. DNA damaging potential of zinc oxide nanoparticles in human epidermal cells. Toxicology Letters185, 211–218 (2009).
Kumar R, Ansari KM, Saxena N, Dwivedi PD, Jain SK, Das M. Detection of Ochratoxin A in wheat samples in different regions of India. Food Control 26, 63–67 (2012).
First choice: Saxena N, Dwivedi PD, Ansari KM, Das M. Patulin in apple juices: Incidence and likely intake in an Indian Population. Food Additives and Contaminants 1, 140–46 (2008).
Reasoning: The selected first article published in Food Additives and Contaminants best highlights my career to date in the field of bioanalysis. This paper reveals an important problem of fungal contamination in commonly consumed fruit, apple. Not only it reports the high levels of patulin, a class-3 carcinogen, exceeding the maximum permissible concentration in fruit juices but also highlights its likely intake in an Indian population from surveillance study. With bioanalytical standpoint, this paper has made appropriate use of latest technical innovations for accomplishment of the study objective. The reported high levels of patulin in fruit juices will support the food regulators in keeping an eye on the safety standards.