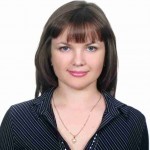 Nominee: Anna Koptina, Uppsala University, Sweden
Nominated By: Anders Backlund, Uppsala University, Sweden
Supporting Comments: Dr. Koptina arrived as a postdoctoral fellow to my laboratory in the fall of 2012 with a scholarship from the Swedish Institute, which she had applied for herself. In our security class II-lab we had already previously been cultivating eukaryotic parasites from the genera Trichomonas and Leishmania for production and harvest of DNA for molecular biology analyses. Dr. Koptina took on the task of setting up an in-vivo testing system for these parasites, developing protocols and techniques for testing and culture maintenance. In the summer of 2013 she was already producing the first reproducible results from this bioassay. Meanwhile she had also applied for, and on her own merits received, an additional scholarship from the prestigious 'Carl Trygger Foundation' for a prolonged stay at my laboratory. In summary I find Dr. Koptina to be an outstanding and very promising young scientist, who with great devotion and solid scientific skills has taken on a new and difficult technique in the field of bioanalysis.

---
What made you choose a career in bioanalysis?
The willingness to understand the ingenuity of biological systems and the possibility to obtain accurate data for the description of biological effects of phytopharmaceuticals.
Describe the main highlights of your bioanalytical research, and its importance to the bioanalytical community.
My bioanalytical research is associated with different areas of preclinical drug discovery path: starting from the screening of biologically active compounds in their natural source, investigation of phytopharmaceuticals' mode of action and assessment of their toxicity as well as measurement of natural products' efficacy. The importance for the bioanalytical community is in the enlargement of methodologies to investigate potency of novel biological compounds for example, an interesting screening tool for the predication of potential adverse effects by the in vivo gene expression profiling or model to study the effect of volatile organic compounds on microorganism physiology and determining thier composition by HS-SPME GC–MS.
Describe the most difficult challenge you have encountered in the laboratory and how you overcame it.
Challenges have been driving my life from childhood. For me life is either a daring adventure or nothing at all. In present times, I am daring to combine all research knowledge that I've obtained within different previous projects and to pursue highly interdisciplinary study. Hurdles have always made me think differently or look at solutions with different perspectives. The most difficult problem that I have encountered in the laboratory was a wish to repeat nature's greatness in the attempt to synthesize a peptide that has such an unusual sequence that three international companies were not able to reproduce during many trials. This unforeseen circumstance had disrupted my research for one year. Without being disheartened, we devised a new method, mostly due to an application of modern bionalytical techniques. I believe it is up to people how positive they take the change as a challenge.
Where do you see your career in bioanalysis taking you?
Fascination in the field of bioanalysis has never stopped me learning more. Framed as being a specialized part in analytical chemistry and supporting all phases of drug development, its use is enormous. In all my years of research, I have used bioanalytical methods. I envision myself developing a novel antimicrobial compound to cure trichomoniasis, one of the most prevalent sexually transmitted disease in the developing world that has no side effects for humans, and in its process, the use of bioanalysis is crucial. I believe a career in bioanalysis would take me a long way in dealing with analysis of biomolecules, helping me to solve complex issues on the captivating path of drug discovery. I am strongly motivated to keep myself up to date with the upcoming technologies related to bioanalytical research. I believe "Future is where novel technology leads". Exploration of new ideas and innovations with bioanalysis is what I hope to continue doing in the future.
How do you envisage the field of bioanalysis evolving in the future?
Bioanalysis will thrive and find broader and quicker application in the normal everyday lives of individuals. Modern developments of life sciences and bioanalysis itself will soon be implemented in every hospital and in diagnostic laboratories worldwide. Growing databases of metabolic, proteomic and genetic changes in the human body during different diseases or stress will help to understand etiology of illness, develop curative treatments and easily monitor a drugs effect on every person on an individual basis.
Please list 5 of your recent publications, and select one that best highlights your career to date in the field of bioanalysis.
1. Ulrich-Merzenich G, Koptina A, Kelber O et al. Prediction of adverse events by in vivo gene expression profiling exemplified for phytopharmaceuticals containing salicylates and the antidepressant imipramine. Phytomedicine 19(3-4), 322–329 (2012).
2. Ulrich-Merzenich G, Kelber O, Koptina A et al. Novel neurological and immunological targets for salicylate-based phytopharmaceuticals and for the anti-depressant imipramine. Phytomedicine 19(10), 930–939 (2012).
3. Roze LV, Koptina AV, Laivenieks M et al. Willow volatiles influence growth, development, and secondary metabolism in Aspergillus parasiticus. Appl. Microbiol. Biotechnol. 92(2), 359–371 (2011).
4. Roze LV, Chanda A, Laiveniek M et al. Volatile profiling reveals intracellular metabolic changes in Aspergillus parasiticus: veA regulates branched chain amino acid and ethanol metabolism. BMC Biochemistry 11:33 (2010).
5. Gabdullin MM, Gatiatullin RG, Koptina AV, Mitrakova NN, Rozhentcov AA. Fat embolism syndrome. Diagnosis and treatment. Modern art of medicine 2(4), 48–58 (2012). [In Russian]
First choice: Ulrich-Merzenich G, Koptina A, Kelber O et al. Prediction of adverse events by in vivo gene expression profiling exemplified for phytopharmaceuticals containing salicylates and the antidepressant imipramine. Phytomedicine 19(3-4), 322–329 (2012).
Reasoning: During this project we obtained fascinating results that showed that prediction of side effects for medicines is possible based on the evaluation of gene expression profiles using microarray data. Toxicity that we have seen for imipramine, a marketed drug against depression, was identical with the side effects described on the drug manual.