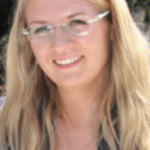 Nominee: Monika J. Bak, Copenhagen University, Denmark
Nominated By: Lars Ove Dragsted & Jens Juul Holst, Copenhagen University, Denmark
Supporting Comments: Monika Bak is a very ambitious and hard-working PhD student in the bioanalytical field. She is very productive in the laboratory and has a high standard to her analytical work. She has focused all her efforts during her PhD on the characterization and improvement of methods for the analysis of incretins. This area has been haunted for years by several unreliable assays available on the market leading to the publication of contradictory results from leading research groups and confusion over the biological actions of the incretins and other gastro-entero-pancreatic hormones. The tenacious and determined work by Monika Bak highlights that many these problems arise as bioanalytical artifacts. This recognition will probably bring the field much forward and create much better consensus in the years to come. This will benefit not only researchers in the field but eventually also patients that need better treatments for metabolic disease. Monika Bak's PhD work is therefore an outstanding example in bioanalysis, and I can warmly support her as a candidate for the Bioanalysis Young Investigator award.
---
What made you choose a career in bioanalysis?
Since I was an adolescent I was interested in biochemistry. Already being at high school I knew, I wanted to focus on this field of science. After finishing my Master studies I was awarded "Student Nobel Price" for the best student in Life Science of 2010 in Poland. This convinced me to pursue my long lasting dream of becoming a scientist and doing a PhD. When choosing my field of study I decided to focus on bioanalysis. I truly believe that it is the most interesting and exciting area of research.
Describe the main highlights of your bioanalytical research, and its importance to the bioanalytical community.
I mainly focus on evaluation and performance of the commercially available assays for measurement of gut hormones. Furthermore, I am also dedicated to develop new, better and higher throughput methods for gut hormone measurements. For me the most important is the quality of the analysis. On the market we can find a large choice of kits, buffers, antibodies and other reagents for research use which are not necessarily of good quality. Some companies are unfortunately focused only on short-term financial benefits. Therefore, in many cases they do not invest enough time to describe and validate their final products in an adequate way. On the other hand, researchers have neither enough knowledge nor time or money to test all commercially available products before analysis of their samples for research. This may lead to erroneous results being published and to disputes over apparently contradictory findings.Hopefully the results of my research can help avoid misleading results thereby improving the quality of future publications.
Describe the most difficult challenge you have encountered in the laboratory and how you overcame it.
Immunoassays will always have limitations related to antibody affinities to analogs of the analyte in question. In the case of incretins this is further accentuated by the relatively small molecular changes differentiating active and inactive forms of the hormones. Development of a better analytical procedure would therefore require other analytical tools. Multiple reaction monitoring LC–MS is a versatile method, but the sensitivity is currently too low for this method to be useful for analysis of most incretins in plasma samples. Combining the two by using several unspecific antibodies for immunoaffinity concentration followed by LC–MS could theoretically solve the inherent problems with both techniques. However, characterizing such a method to produce a useful bioanalytical procedure is a major challenge.
Where do you see your career in bioanalysis taking you?
In the future I would like to develop myself into one of the world's renowned specialists in the area of assay quality. I can see a huge need, expressed by other bioanalysts, who are contacting me and our laboratory to get any information we can provide on the quality of commercial assays. I hope therefore that an international standardizing organization will be created, which would focus on the issue of quality assurance of commercial assay kits. I would see myself as a member of such an organization initially conducting quality assessment of proposed new methods for bioanalysis. Furthermore, I would see myself as a specialist creating guidelines and setting standards within such an organization.
How do you envisage the field of bioanalysis evolving in the future?
Currently, I can see two evolution paths in the bioanalysis field. One of them would be pushed forward by the need of standardization. Many bioanalysts are looking for reliable methods of comparing available assays. I would like to see that in the near future there would be well regulated standards describing and certifying available products for bioanalysis. A standardization and quality control organization for bioanalysis would force manufacturers to focus more on the quality of their products as well as to give better information on their use and applications. This would allow better transparency, improved competition and better possibilities for researchers to compare results among different studies. At the present time this is rather hard to do when two studies have been done with different assays.
The other evolution path will involve automation of the bioanalytical procedures. This would allow reduction of human errors during analysis. It will also significantly shorten analysis time by allowing the bioanalysts to perform a larger number of repetitions providing more reliable overall results of experiments. All in all, I can see important developments in the field of bioanalysis.
Please list 5 of your recent publications, and select one that best highlights your career to date in the field of bioanalysis.
1. Bak MJ, Albrechtsen NJ, Pedersen J et al. Specificity and sensitivity of commercially available assays for glucagon-like peptide-1 (GLP-1): Implications for GLP-1 measurements in clinical studies; submitted to Diabetes, Obesity and Metabolism 2014.
2. Bak MJ, Albrechtsen NJ, Pedersen J et al. Specificity and sensitivity of commercially available assays for glucagon and oxyntomodulin measurement in human plasma. European Journal of Endocrinology 170(4), 529–538 (2014).
3. Bak MJ, Albrechtsen NJ, Hartmann B et al. No effect of aprotinin (Trasylol™) on degradation of exogenous and endogenous glucagon in human, mouse and rat plasma. Journal of Endocrinology and Diabetes 1(1), 5 (2014).
4. Bak MJ, Albrechtsen NJ, Hartmann B, et al. Stability of glucagon-like peptide-1 and glucagon in human plasma. (In preparation)
5. Bak MJ, Lataza O, Holst JJ, Dragsted LO, Lassman M. Simultaneous measurement of human glucagon, glucagon-like peptide-1 (7-36NH2 and 9-36NH2) and oxyntomodulin using immuno-affinity LC/MS-MS. (In preparation)
First choice: Bak MJ, Albrechtsen NJW, Pedersen J et al. Specificity and sensitivity of commercially available assays for glucagon and oxyntomodulin measurement in human plasma. European Journal of Endocrinology 170(4), 529–538 (2014).
Reasoning: reflects the problem with reliability of the commercial assays; in this case for glucagon and oxyntomodulin measurements. Those two hormones are very important and their recognition as major players in endocrinology is crucial. Since they share the same amino acid sequence, immunoassays without very selective antibodies will cross react with both of them (and also with glicentin). Knowing and understanding the antibody specificity would help to bring this research area forward.