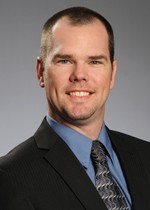 Nominee: Daniel Bennett, Senior Scientist, Mass Spectrometry, inVentiv Health (USA)

Nominated By: Clark Williard, Executive Director, Mass Spectrometry, inVentiv Health (USA)
Supporting Comments: Being a bioanalytical chemist within a Contract Research Organization (CRO) doesn't allow one to research 'unchartered' territory. CRO scientists support groundbreaking drug development by refining new uses for current technologies as well as develop and define the processes required for each new technology within a regulated environment. Dan is one of the strongest LC-MS/MS method developers who pushes the envelope with his technical skills and innovative ideas at inVentiv. He has been instrumental in driving the method development process by establishing a scripted approach and thinking process within the laboratory for all types of molecules. Dan actively led the Dried Blood Sample initiative within inVentiv soon to be reflected in future publications.

Dan joined inVentiv directly out of college and quickly worked his way up the career ladder. As a Project Investigator (PI), Dan assertively drives an abundant number of programs and continually expands his client relationships via sound science and exceptional communication. He shines as a PI which highlights not only his technical knowledge but his professional skills such as project management, leadership, and the ability to juggle many different tasks at once. As an excellent mentor, Dan is an inspirational leader and motivator which in the fast-paced CRO world are paramount.

---
 What made you choose a career in bioanalysis?
I am a firm believer that this career chose me. I knew two things when graduating college: one was I wanted to work in the pharmaceutical industry, and the second was I wanted to know that my work was having a positive impact on the lives of people suffering from disease. My first job out of college was working at a small bioanalytical lab, and from my first day there my ambition for solving difficult bioanalytical challenges has grown.
Describe the main highlights of your bioanalytical research, and its importance to the bioanalytical community.
The main highlight of my bioanalytical research has been developing and validating rugged and robust bioanalytical LC-MS/MS methods which provide precise and accurate data and assist our clients in bringing new drugs to market. By utilizing and developing new technologies along with advancement in the sensitivity and selectivity of mass spectrometers, innovative bioanalytical methods can provide lower LLOQs using less and less sample volume. Providing our client with quality accurate data is a key aspect in helping to determine the efficacy of their novel treatments.
Describe the most difficult challenge you have encountered in the laboratory and how you overcame it.
The most difficult challenge I have encountered in my young career was developing an LC-MS/MS analytical method for an adsorption prone compound in human urine. The assay proved to be particularly challenging as the compound showed a greater affinity to adhere to the polypropylene tube rather than to fully solubilize in the urine which caused inaccuracies in the results. I overcame this challenge by testing the addition of different additives to the urine which would prevent adsorption and increase the solubility of the compound in urine. The result was to add a small amount of a surfactant known as Triton-X which would coat the walls of the tube and prevent the adhesion of the compound to the tube. The addition of the small amount of surfactant was also an improvement from a historical treatment to overcome this situation, which was to add methanol 1 to 1 in the urine.
Where do you see your career in bioanalysis taking you?
It is hard to determine exactly where this career in bioanalysis will take me. I feel I have some great opportunities in front of me with plenty still to learn about the ever changing landscape of bioanalysis. It feels like I learn something new every day from my mentors, peers, and co-workers. I am going to try and take that knowledge along with my skill set and passion to solve difficult bioanalytical challenges to thrive in any future opportunities.
How do you envisage the field of bioanalysis evolving in the future?
The field of bioanalysis has a dynamic landscape. From the traditional small molecule compounds, to new and developing large biologicals, and identification of key biomakers, I see this field evolving to present new challenges for bioanalytical scientists to develop methods that are more robust, sensitive, selective, accurate, and of good quality to really drive future drug development.
Please list up to five of your publications in the field of bioanalysis:
1. Bennett D, Gibbons J, Mol M, Ohtsu Y, Williard C. Validation of a method for quantifying enzalutamide and its major metabolites in human plasma by LC-MS/MS. Bioanalysis 6(6), 737—744 (2014).
2. Bennett D, Gonzalez E, LeLacheur R, Taylor P, Korczak B. Method Development of an Assay for the Quantitation of an Adsorption-prone Compound in Human Urine. American Association of Pharmaceutical Scientists Annual Meeting and Exposition. New Orleans, LA, USA, 14—18 November 2010.
3. Bennett D, Carlton K, LeLacheur R, Taylor P, Wu D, Leong G. Validation of an Automated Method for a Pro-drug, Monoester, Parent, and Uridine metabolite in Rat Plasma by LC/MS/MS. American Association of Pharmaceutical Scientists Annual Meeting and Exposition. Atlanta, GA, USA, 16—20 November 2008.
Please select one publication from above that best highlights your career to date in the field of bioanalysis and provide an explanation for your choice.
The publication for the 'Validation of a method for quantifying enzalutamide and its major metabolites in human plasma by LC–MS/MS' is one I am particularly proud of as this assay has been used to provide accurate and precise bioanalytical data to get the drug approved by the FDA for the treatment of metastatic castration-resistant prostate cancer. I am pleased to see the work that I am doing is having a positive result on people suffering from cancer.