By:
Afshin Safavi, Founder & Chief Scientific Officer, BioAgilytix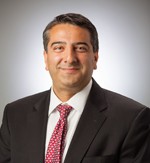 Afshin Safavi is a veteran biochemist with extensive experience establishing and leading bioanalytical teams in pharmaceutical, biotechnology, and manufacturing companies, as well as CROs. He and his teams have supported the development of a broad range of therapeutics in pre-clinical and clinical-trial laboratories. Prior to founding BioAgilytix, he was the Director of Ligand Binding and Immunoassay, operating under GLP at AAIPharma. At Talecris BioTherapeutics, he led the Preclinical and Clinical Assay Development team, building on his experience as a senior scientist at Nobex Corporation, GlaxoSmithKline and IGEN International.
Safavi is considered an expert in the area of immunoassays, with a wide working knowledge of various platforms. He obtained his BS in Biochemistry from UCLA (CA, USA), his PhD in Biochemistry from the University of Kentucky's Medical School (Department of Biochemistry) (KY, USA), and he completed a 2 year postdoctoral assignment at Emory University's Department of Pathology (GA, USA).
---
It was the mid-2000s when I first started thinking to myself, "there must be a better way to do this." At the time, I was working as a Senior Scientist for a mid-size biopharmaceutical company. I managed a small team of talented people developing immunoassays in support of non-clinical and clinical studies for large molecule biotherapeutics. My team was responsible for the identification, audit, selection and outsourcing of assays to various contract research organizations (CROs).
After several years working with CROs on the innovator side of the business, I began to notice an important trend. Regardless of the size of the CRO, the quality of the work that I received was most dependent on the specific team managing and working on my projects. After some years of experience and numerous failed CRO partnerships, I started thinking, "What would I do if I owned a CRO? What would I keep the same and what would I do differently than all the others out there?"
Click here to view all other articles in this series.
Click here to view BioAgilytix's company profile.