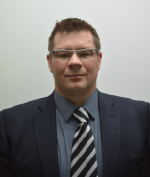 Tim Sangster is a well travelled bioanalytical chemist having worked in Scotland, Italy, England, America and finally back to Scotland to head up the Bioanalysis and Immunology Department for Charles River, Edinburgh six years ago.  During his travels he has gained experience in both CROs and Pharma supporting drug development from a Bioanalytical perspective from Discovery through to market. Currently Tim's main scientific focus are in the use of microsampling to reduce and refine toxicology study designs as well as applying it to other application areas and also the use of LC-MS in the analysis of macromolecules.
---
Short interview
1. What are your main areas of interest within bioanalysis?
Microsampling and matrix effects have been a focus for many years and still continue to be.
2. Describe your current role in under 20 words.
I am lucky to head up a great team of bioanalytical and immunological scientist supporting clinical and preclinical development programs.
3. How many years of experience do you have in the bioanalytical field?
17.
4. What was the subject of your college major/undergraduate degree?
Microbiology and Genetics
5. What is your highest academic qualification?
BSc
6. How many organizations have you worked at?
5.
7. How many countries have you worked in?
4.
8. How many papers have you published in total?
11.
9. Which conferences have you attended in the past year?
EBF, SOT, DMDG microsampling, NC3R's Barriers to microsampling.
10. Which countries have you visited in the past year?  
US, France, Switzerland, Germany, Finland, Spain.
11. What social media tools do you use?
LinkedIn, Facebook.
12. Coffee or tea? How many cups a day?
1 cup of tea first thing.
13. Make mine a … (favorite drink)  
Innes and Gun original.
14. If I weren't a bioanalyst I would be… (alternative career)  
Lawyer.
15. You'd be surprised to know that I…  
Fenced for my university.