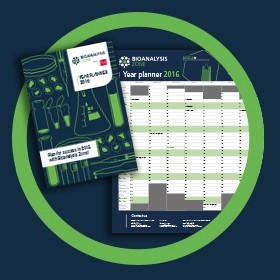 Sadly the birthday celebrations are coming to an end as we are in the final week of our birthday month.
However, all is not lost as to end the celebrations with a bang, we are giving away our biggest gift yet, a Bioanalysis Zone 2016 year planner.
Our poster-size year planner features key bioanalytical conferences, plus tons of useful information and cool graphics.
To claim this great offer please join the Zone or recommend us to your friends/colleagues now as this offer is only for 1 week!
Join the Zone and claim your Bioanalysis Zone 2016 year planner  – http://www.future-science-group.com/joinbzbday_wk4_yearplanner/.
Already a member? All you have to do is recommend a friend and you will also receive the year planner! Recommend a friend here.
Don't miss out!