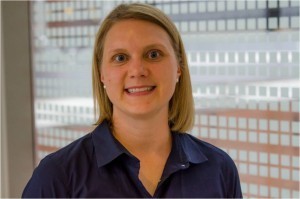 Nominee: Stephanie Cologna – Department of Chemistry, University of Illinois (Chicago, IL, USA) 
 Nominated By: Alfred L. Yergey - Eunice Kennedy Shriver National Institute of Child Health and Human Development (NICHD) (Maryland, USA)
Supporting Comments: I worked with Dr. Stephanie Cologna over the last five years as a mentor in her postdoctoral fellowship in the NICHD. While it is challenging to rank people in an absolute sense, I place her at the top of the approximately 20 fellows with whom I've had the pleasure of working during my 36 years at the NIH. During her time as a postdoctoral fellow, Stephanie embraced learning genetics and molecular biology yet maintained her dedication to and passion for analytical chemistry. As a mass spectrometrist she is in tune with the important factors of chemical measurement and the role of mass spectrometry in a variety of disciplines. Her publication record is proof of these as she has published both fundamental studies of quantitative proteomics as well as applied studies in the biomarker field. Since her start at NIH, she has become an independent investigator and has a passion for research that was demonstrated repeatedly by her novel experiential designs for challenging problems. Dr. Cologna demonstrated leadership skills by organizing an ongoing NIH-wide seminar series for postdoctoral fellows while also mentoring two undergraduate students undertaking difficult research problems. Her mentoring led to both students gaining admission to prestigious graduate programs.
---
 What made you choose a career in bioanalysis?
As a student, I was fascinated by both my Quantitative Analysis and Instrumental Analysis laboratory courses. This led me to pursue graduate research in analytical chemistry (mass spectrometry) in which I was able to work to develop new methods and approaches to improve biomolecule measurements. Additionally, I have had extremely supportive mentors that have helped me to develop my skills and encourage me to pursue an independent career. I hope to be able to positively impact young scientists in the field of bioanalytical sciences as an extension of my passion for bioanalytical science.
Describe the main highlights of your bioanalytical research, and its importance to the bioanalytical community.
My early work was devoted to the integration of a novel separation device for rapid electrophoretic fractionation prior to mass spectrometery analysis as it applies to qualitative and quantitative proteomic studies. As a postdoctoral fellow, I was able to build on this experience and develop my skills more focused on quantitative analysis and biomarker studies related to human disease. Using mass spectrometry, I identified biomarkers in a mouse model and translated those findings in patient samples. Furthermore, I was able to work on the development of a robust experimental design for quantitative proteomic experiments and implemented a normalization methodology that is useful for the evaluation of data quality and identification of differential proteins. Additionally, I mentored a young trainee who developed a mass spectrometry-based assay for a candidate drug discovery assay that will be used to find potential pharmaceutical treatments for a disease that currently has no treatment available.
What is the impact of your work beyond your home laboratory?
My most recent work in the field of quantitative mass spectrometry and biomarker discovery has been of interest to two disease foundation groups. I was the recipient of a research grant from the Smith-Lemli-Opitz Foundation as well as the Peter Pentchev Postdoctoral Fellowship from the National Niemann Pick Foundation. These two groups have recognized the importance of bioanalytical chemistry and mass spectrometry as it pertains to the development of treatments for these two patient groups. Furthermore, a series of the biomarkers I have obtained from my studies are currently being used in clinical trials that are ongoing at the NIH.
Describe the most difficult challenge you have encountered in the laboratory and how you overcame it.
The most difficult challenge I faced was the transition from graduate student to postdoctoral fellow. To further my training in the biological side of bioanalysis, I pursued postdoctoral training at the NIH and joined a translational laboratory focused on human genetics and molecular biology. The first year was extremely difficult as I had to teach myself human genetics and gain a much deeper understanding of molecular biology than ever before. The "language" that my colleagues used was very different than that of chemists and I was constantly looking up terminology and taking notes to
study concepts after work hours. By embracing this challenge and working hard, I was able to improve my knowledge of molecular biology and genetics and I also learned new analysis techniques that would become useful later. After about a year, I realized that my colleagues and I viewed scientific problems differently based on our previous training. Having a group that has a diverse training background, we were able to help each other out more quickly as we brought different skill sets and thoughts to the table. In the end, I was able to maximize my training experience and respect the challenges
and interests of others.
Describe your role in bioanalytical communities/groups.
I have been a member and participated in the American Society for Mass Spectrometry (ASMS) since 2006. It is within this group that I have participated by attending conferences and presenting my research in both poster and oral formats, participated in discussion workshops and most recently have been asked to chair a session at the upcoming meeting. I have also been deeply involved with my local mass spectrometry discussion groups (Baltimore/Washington and Chicago). As a postdoctoral fellow, I was on the organizing committee of the NIH Proteomics Interest Group – Fellows Forum series to coordinate presentations for trainees. Most recently, I am working with my colleagues in Chicago to establish "Chicago
Mass Spectrometry Day" which will feature young scientist presentations in the general field of mass spectrometry. In addition to my mass spectrometry affiliation, I have also attended conferences and integrated in the separation science discipline.
Please list up to five of your publications in the field of bioanalysis:
Cologna SM, Crutchfield CA, Searle BC, Blank PS, Toth CL, Ely AM, Picache JA, Backlund PS, Wassif CA, Porter FD, Yergey AL. An Efficient Approach to Evaluate Reporter Ion Behavior from MALDI-MS/MS Data for Quantification Studies using Isobaric Tags. Journal of Proteome Research, 14(10), 4169-78 (2015).
Rauschecker ML, Cologna SM, Nilobul N, Shamburek RD, Backlund PS, Yergey AL, Kebebew E, Balow JE,  Stratakis CA, Abraham S. LECT2-associated Adrenal Amyloidosis.  AACE Clinical Case Rep, 1(1), 59-67 (2015).
Cologna SM, Jiang X-S,  Backlund PS,  Cluzeau CVM,  Dail MK,  Yanjanin NM, Siebel S,  Toth CL, Jun H-S,  Wassif CA,  Yergey AL,  Porter FD. Quantitative Proteomic Analysis of Niemann-Pick Disease, type C1 Cerebellum Identifies Protein Biomarkers and Provides Pathological Insight. PLoS One, 7(10) e47845 (2012)
Cologna SM , Russell WK , Vigh G,  Russell DH. Studies of Histidine as a Suitable Isoelectric Buffer for Tryptic Digestion and Isoelectric Trapping Fractionation followed by Capillary Electrophoresis – Mass Spectrometry for Proteomic Analysis. Analytical Chemistry, 83(21), 8108-8114 (2011).
 Cologna SM,  Russell WK,  Lim PJ,  Vigh G,  Russell DH. Combining Isoelectric Point Fractionation,
Liquid Chromatography and Mass Spectrometry to Increase Peptide Detection and Protein Identification. Journal
of the American Society for Mass Spectrometry, 21(9), 1612–1619 (2010).
Please select one publication from above that best highlights your career to date in the field of bioanalysis and provide an explanation for your choice.
Cologna SM, Crutchfield CA, Searle BC, Blank PS, Toth CL, Ely AM, Picache JA, Backlund PS, Wassif CA, Porter FD, Yergey AL. An Efficient Approach to Evaluate Reporter Ion Behavior from MALDI-MS/MS Data for Quantification Studies using Isobaric Tags. Journal of Proteome Research, 14(10), 4169-78 (2015).
I chose the above article to best represent my career as I believe that the work in that study truly outlines an important part of my scientific career as it relates to gaining a deeper understanding and quantitative measurements by mass spectrometry. This study design was initiated and further refined over at least a six month period of time and I spend an extensive amount of time trying to ensure that all aspects of variability could be accounted for as well as the impact of the information that could be obtained from the data. I envision that this manuscript can be used as a "teaching tool" for others in the field of quantitative mass spectrometry and highlights the importance of experimental design.
Find out more about this year's New Investigator Award, the prize, the judging panel and the rest of our nominees.