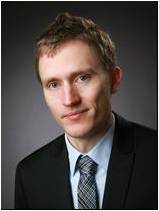 Nominee: Phillip Trefz – Breath Research & Technology, University of Rostock (Germany)
Nominated By: Prof. Jochen Schubert D.E.A.A. Vice Director Department of Anaesthesiology and Intensive Care, University of Rostock (Germany)
Supporting Comments: I have known Mr. Trefz since January 2010 when he entered my laboratory as a PhD student. Special characteristics of the work done in my lab are interdisciplinary approaches from cutting edge analytical sciences, clinical chemistry and diagnostic medicine. Mr Trefz learned extremely fast how to use the analytical equipment in our laboratories. This included Proton-Transfer-Reaction (Time of Flight) mass spectrometry), GC(xGC)-MS and HPLC. From the beginning Mr Trefz was involved into experimental and clinical studies. Basic research projects dealt with adaption of PTR-TOF-MS to the requirements of breath resolved online measurements, calibration issues and optimization of online preconcentration techniques for offline breath analyses. Clinical investigations have been done in mechanically ventilated critically ill patients and children with diabetes, pulmonary and renal diseases.

He wrote a considerable number of papers which were all published in high ranking analytical and medical journals and finished his PhD within a short time (grade: magna cum laude).

Mr Trefz presents as an unusually motivated and gifted research fellow. He is extremely quick in learning and has a genuine understanding of scientific issues. He develops new concepts and is capable of seeing the broader perspectives of what he is doing.

---
What made you choose a career in bioanalysis? (100 word limit)
I specialized in bio – and process analytical chemistry in my master studies and it was clear for me early on, that I wanted to work in an interdisciplinary field and not do "pure" chemistry. As I started to look for a PhD position I was open to a lot of different research fields, but once I found the position in clinical breath research in Rostock, I initially knew that this is what I wanted to be doing. Gladly it worked out and I haven't looked back ever since.
Describe the main highlights of your bioanalytical work, and its importance to the bioanalytical community (200 word limit) (i.e. a new analytical technique developed, new method developed which reduced cost/increased efficiency of an assay, diagnostic tool developed)
Breath analysis offers vast potential for the development of non-invasive diagnostic methods. As sample preparation is the cornerstone of any analytical technique, I developed a device for automated alveolar breath sampling using needle-trap-microextraction for subsequent GC–MS analysis. The sampling device is applicable directly at the point-of-care, simple to handle and can thus serve as an interface between the patient and the laboratory. Sampling of only the alveolar phase enables the correlation of breath VOC concentrations to blood parameters. The system is optimally adapted for clinical needs, provides a reliable and reproducible sampling and extraction of potential breath biomarkers and can be a basis for the development of novel diagnostic methods.
Moreover, I have developed an adapted online-mass-spectrometric assay including an automated data analysis algorithm for breath resolved real-time measurements via PTR-ToF-MS. The continuous monitoring of whole breath VOC profiles facilitates the detection of rapid changes in breath VOC profiles due to physiological and pathophysiological changes. Thus, the assay can serve as a non-invasive window into the body with no harm for the patient. Furthermore, it was the first time breath-resolved VOC measurements were done in mechanically ventilated patients.
Both developments are important steps towards a clinical application of breath analysis.
What is the impact of your work beyond your home laboratory? (I.e. an example of your works implementation in an external setting) (150 word limit)
Both techniques are the analytical basis of several projects with national and international partners. Both are applied in the detection of para TB in the breath of ruminants at the Friedrich-Löffler-Institute in Jena, Germany.
The needle-trap sampling device is now commercially available and e.g. used in the Helmholtz-Centre Munich as well as in universities in Austria or in India and Portugal for cancer and neurodegenerative disease detection (projects: HCV, NCD-CAPomics).
Based on biomarkers I defined via both techniques a nanobased sensor system for mHealth application is currently being developed within a European consortium (HEARTEN). The PTR-MS assay is further applied in our laboratory for investigating how physiology effects breath VOC concentrations which is an important aspect for standardization efforts of breath measurements on behalf of the IABR.
The technique will also be used in a recently granted cooperation project with the pediatric clinic in Rostock on diabetes monitoring in children.
Describe the most difficult challenge you have encountered in the laboratory and how you overcame it (200 word limit)
As an analytical chemist, the most challenging part of my work has been – and still is – to not only have the necessary analytical expertise, but understanding the clinical implications of breath research as well. This affects all aspects of my work, from study design to data interpretation. Not every idea that is interesting from an analytical point of view also makes sense from a clinical perspective (and vice versa) and results can be influenced by numerous effects such as physiology, medication, background contaminations, metabolism or pre-exposure, just to name a few, that have nothing to do with the actual disease under investigation. Sorting these issues out and overcoming this ever ongoing challenge requires constant interdisciplinary teamwork with clinical experts. Furthermore, complex clinical studies that we have carried out on the intensive care unit or the post anesthesia care unit would have been impossible without clinical support. Fortunately, our research group is part of the clinic and policlinic for anesthesiology and intensive care therapy and thus not only consists of chemists and biotechnologists, but also of physicians, that are always ready to discuss ideas and results from their perspective and have a strong interest of bringing breath research into clinical practice.
Describe your role in bioanalytical communities/groups (i.e. bioanalytical focus groups, inter-disciplinary groups) (200 word limit)
Through regular presentations and networking sessions on international conferences, such as PittCon, the PTR-MS conference or the Breath Summits of the International Association of Breath Research (IABR) I transport my knowledge, results and ideas into the breath analysis and (bio)analytical communities. Part of my work is also strongly related to the standardization of breath measurements on behalf of the IABR.
In national and international projects (e.g. HEARTEN), I provide analytical expertise in breath analysis for our cooperation partners from medical, biostatistical or sensor development backgrounds. This includes study design and training of PhD students from different backgrounds in the required analytical techniques. This way our analytical methods have been transferred to laboratories in India and Portugal. In our interdisciplinary research group I further supervise MD students in the analytical part of their work and subsequent data analysis.
In cooperation with companies such as IT Gambert or PAS Technology I am working on the practical implementation of our academic solutions. As a result, the NTME sampling device was made commercially available and is used in several research laboratories.
Moreover, I regularly do editorial work as reviewer for different scientific journals including Journal of Chromatography A and Journal of Breath Research.
Please list up to five of your publications in the field of bioanalysis (posters and presentations accepted):
Trefz et al. Continuous teal time breath gas monitoring in the clinical environment by proton-transfer-reaction-time-of-flight-mass spectrometry. Analytical Chemistry. 85 (21), 10321–10329 (2013).
Trefz et al. Needle trap micro-extraction for VOC analysis: Effects of packing materials and desorption parameters. Journal of Chromatography A, 1219, 29–38 (2012).
Trefz et al. Evaluation of needle trap micro extraction and automatic alveolar sampling for point of care breath analysis. Analytical and Bioanalytical Chemistry. 405, 3105–3115 (2013).
Trefz et al. Volatile emissions from Mycobacterium avium subsp. paratuberculosis mirror bacterial growth and enable distinction of different strains, PLoS One. 8(10), e76868 (2013).
Sukul et al. Instant effects of changing body positions on compositions of exhaled breath. Journal of Breath Research. 9(4), 047105 (2015).
Please select one publication from above that best highlights your career to date in the field of bioanalysis and provide an explanation for your choice (100 word limit)
Publication one is the most important one for me so far – not just because it allowed me to finish my PhD.
The assay facilitates fast measurements of large patient cohorts as no sample preparation is required and the measurement only takes a few minutes. It made it possible to move forward with respect to standardization of breath measurements since we can now monitor how physiology or pathophysiology immediately effects exhaled breath VOC concentrations. However, most importantly, it is the basis of my first own research grant from the German Research Council on non-invasive DM 1 monitoring in pediatric patients.
Find out more about this year's New Investigator Award, the prize, the judging panel and the rest of our nominees.