Peptides and Proteins are not Small Molecules; Why Treat Them the Same?
Whether you have been doing it for years or are just starting off, large molecule quantification creates a number of challenges for bioanalysts, including:
Sensitivity and specificity issues
Multiple charge states dilute signal
Complex fragmentation patterns
Endogenous proteins and peptides yield high background
And many, many more
Waters' Peptide and Protein Bioanalysis Application Notebook (updated for 2017) outlines methods, inclusive of sample prep, separations, MS and informatics, helping scientists solve the most pressing and challenging analytical problems.
Click image below to view full size
Highlights include: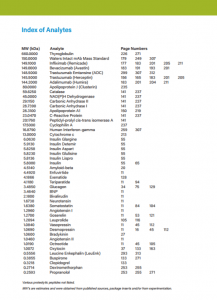 48 application notes written by more than 60 expert authors
47 unique analytes – therapeutics and biomarkers
Covers tandem quads, HRMS (QTof), Tof MRM, microflow, informatics, and more
Peptides, proteins (surrogate peptide method & intact quantification), mAbs, ADCs, and others
To download the PDF click here!
---
Click here to view Waters Corporation company profile.