By:
Amy Craddock, Future Science Group
Thermo Fisher Scientific Inc. (MA, USA) have announced the development of a new series of leak-proof vials that offer enhanced sample protect and user safety. This has been ensured with a unique lid-lock design, which makes the Samco Clicktainer vials specifically designed for handling or transporting valuable or hazardous samples safely without the risk of contamination.
"Enabling the safe and secure collection and transportation of specimen samples is essential for the efficient operation of many laboratory types where leakages can not only lead to inconveniences associated with lost work, but can also be hazardous for laboratory personnel," commented Eric Roman, president, laboratory products, Thermo Fisher Scientific.
"Our new Samco Clicktainer vials are rigorously tested to ensure they are leak-proof, and our click seal system provides users with peace of mind that their specimens are secure following collection."
The new Samco Clicktainer vials have been designed for the secure handling of fluid, solid and powder samples that could be used in clinical, research or forensic samples. These vials have the CE mark and met the 95 kPa pressure requirements for regulatory standards BS EN 14401 and 14254. They have also been tested for use in hospital pneumatic transport systems.
The vials, which are available in 90 mL and 120 mL,  have a 53 mm wide opening that allows easy specimen collection and comes in multiple colors enabling sample management and differentiation.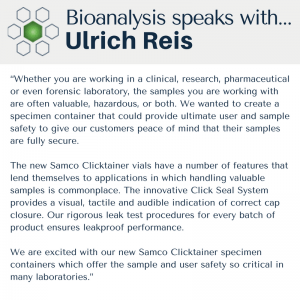 Source: www.prnewswire.com/news-releases/new-thermo-scientific-samco-leakproof-vials-offer-enhanced-sample-and-user-safety-300488542.html
For more information, please click here.