WHY NOMINATE | MEET THE JUDGES
Over the past 7 years, Bioanalysis Zone is proud to promote and recognize the work of highly talented early-career researchers. With the support of our sponsor Waters Corporation we are honored to offer nominees and winners of our annual New Investigator Award a springboard to help establish themselves in the exciting world of bioanalysis.
---
2017 Winner
Matthew Lockett  has been named the winner of the 2017 New Investigator Award! Matthew won the public vote after four finalists were shortlisted by the judges. The finalists included, Swarnapali De Silva Indrasekara (Duke University; NC, USA), Michael Witting (Helmholtz Zentrum Munchen; Munich, Germany) and Yu Shrike Zhang (Harvard Medical School; MA, USA), who was awarded a special recognition from the judges after a tight competition. Find out more about Matthew's research below: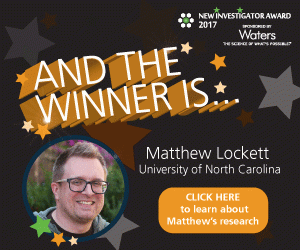 ---
The Next Generation of Bioanalysts
Since its initation, the award has received over 100 nominees from 6 different continents and has prompted over 5000 votes from the bioanaltyical community. We followed up with all our previous nominees to discover where they are now and discuss the impact of being nominated for the award. The results from our sruvey can be seen in the infographic here.
---
Finalists 2017
With the judges, we are delighted to announce the finalists for this year's New Investigator Award. Voting has now closed but find out more about each finalist by clicking on their faces below to watch their short interviews in which they share their research.
---
Nominees 2017
We are delighted to showcase the bioanalytical work of this year's New Investigator Award nominees. Take a look at our nominees below to find out more.
About Bioanalysis Zone
Since launching in 2011, Bioanalysis Zone has attracted over 8000 active members from the global bioanalytical community, representing the pharmaceutical, biotech and CRO industries, along with academia and healthcare. Each month, members visit the site to read industry news, original research, exclusive interviews and commentaries.
About Waters Corporation
Waters Corporation develops and manufactures advanced analytical and material science technologies for laboratory dependent organizations. For more than 50 years, the company has pioneered a connected portfolio of separations science, laboratory information management, mass spectrometry and thermal analysis systems.