ASMS 2020 Reboot – what to look forward to
---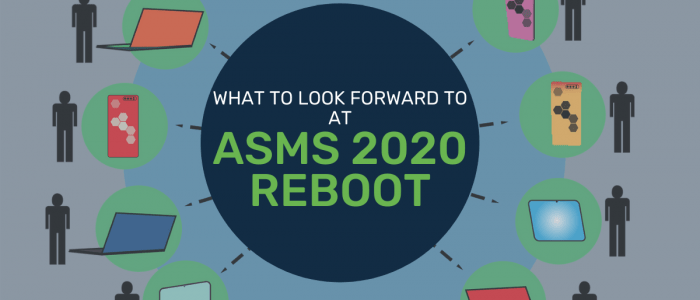 In light of the COVID-19 pandemic, and for the safety of all attendees, the American Society for Mass Spectrometry (ASMS) has shifted the 2020 program to an online, virtual conference format. ASMS 2020 Reboot promises the opportunity to stay connected while keeping your distance, with talks and posters to be delivered in an online interactive format.
---
Stay up-to-date with all of our ASMS 2020 content, including news, interviews and our highlights. Click here.
Click here
How will it work?
With the online format, attendees of ASMS 2020 Reboot will be able to make use of the familiar online planner and mobile app. These tools can be used to browse the proceedings of the virtual conference and identify which presentations, talks and panel discussions to attend.
The online platform will allow attendees to watch live webinars of plenary lectures, tutorials, award lectures presentations and workshops. The virtual platform will also give attendees the opportunity to join 'watch parties' where a collection of oral presentations will be delivered and then followed up by a live Q&A webinar with the speakers.
The majority of live webinars at ASMS 2020 Reboot will take place Monday to Friday June 1–5 and June 8–12 between the hours of 10:00am and 3:00pm [CDT].
Poster presentations and optional poster presentation videos will be able to be viewed on demand from June 1. Oral presentations and posters will also all feature a 'submit questions to authors' button and 'request more info' button, so authors can publish and provide answers to audience questions.
The online platform will also give registered attendees the opportunity to watch talks on demand at any time between June 1 and August 31.
Editor's highlights: what to look forward to
As well as plenary lectures, tutorials, award lectures, presentations and workshops, ASMS 2020 Reboot is set to host approximately 13 short courses.
Week 1 (June 1–5)
In the first week of ASMS 2020 Reboot, attendees can expect the opening plenary, award presentations and lectures, the ASMS meeting and workshops from a variety of interest groups.
Featured speakers in week 1 include Heather Desaire (Professor, Department of Chemistry, University of Kansas, KS, USA). Desaire's tutorial lecture will be exploring glycoprotein analysis for understanding human disease. We caught up with Heather to discuss the aims and scope of her presentation. Click here to read the interview. Peter Nemes (Associate Professor, Department of Chemistry and Biochemistry, University of Maryland, MD, USA) will also be giving a tutorial lecture in week 1. Nemes' lecture will discuss the single-cell mass spectrometry research currently being carried out by the Nemes Research Group.
The opening plenary lecture will be delivered by Patricia Beauchamp (Chief Technologist, Engineering and Science Directorate, NASA Jet Propulsion Laboratories, California Institute of Technology, CA, USA) on the Mars 2020 Rover and the first planetary samples from the Jezero Crater. A special keynote lecture from Corinne Moss-Racusin (Associate Professor, Psychology, Skidmore College, NY. USA) will explore what the latest scientific studies report regarding the gender bias that still remains in academic science.
Week 1 of ASMS 2020 reboot will also be the host to approximately 50 workshops and a range of award presentations. The Al Yergey MS Scientist Award will be presented on Tuesday June 2 and followed by the award lecture for the John B Fenn Award for a Distinguished Contribution in Mass Spectrometry. Additional research rewards and the Biemann Medal will be presented on Wednesday June 3.
Thursday will see the ASMS 2020 Meeting held as a live webinar. Attendees will have the opportunity to network on Friday with all corporate members being invited to participate in a virtual exhibit hall.
You might also like…
Week 2 (June 8–12)
ASMS 2020 week 2 will feature all of the 'watch party' sessions. In each of these oral sessions, six talks will be followed by a live Q&A webinar with the speakers. With approximately 60 'watch party' sessions covering topics from top-down protein analysis to quantitative analysis in drug discovery and development there is sure to be plenty of opportunity for meaningful discussion.
The closing plenary lecture will be delivered by Stephen Brusatte (University of Edinburgh, UK) on mass spectrometry in new dinosaur discoveries.
Despite the unprecedented times we find ourselves in, ASMS 2020 Reboot is set to be an effective learning and interacting experience.
---