Young Investigator Award 2013
Voting for the 2013 Young Investigator Award has now closed.
Thank you to everyone who cast their vote to help select the winner of the 2013 Bioanalysis Young Investigator Award, sponsored by Waters Corporation.
The Award was presented to Anthony O'Donoghue on November 20th 2013 at the European Bioanalysis Forum 6th Open Symposium in Barcelona. O'Donoghue is the recipient of a US$1000 award from Waters Corporation as well as a print and online subscription to Bioanalysis journal, and a travel bursary to collect his award in person.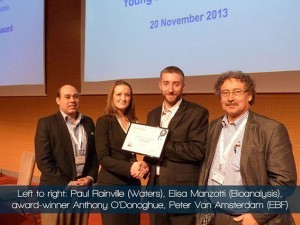 On receiving the award, O'Donoghue commented:
"I am delighted to be chosen as the winner of the 2013 Young Investigator Award. While it is always an accomplishment to publish, it is particularly rewarding to be acknowledged as an individual scientist for the work I have done. I hope this award will strengthen my prospects of obtaining a faculty position at a strong research institute."
To view O'Donoghue's full nominee profile click here. We also conducted a short written interview as well as a video interview with him after the presentation of the Award.
We'd like to thank all of the nominees for their participation and wish them all the best in their future bioanalytical careers.
2013 Highly Commended

2013 Finalists
2013 Nominees