Biocrates Life Sciences AG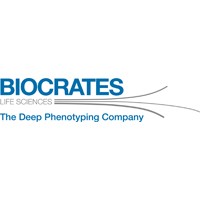 Biocrates provides the fast track to metabolic biomarker signatures.
With targeted metabolomics kits and services for quantitative, reproducible, and high throughput analyses, Biocrates enables researchers to acquire comprehensive metabolic information more quickly, and more reliably.
Biocrates has been a leading technology provider for research in Targeted Metabolomics for more than 15 years. The technology provides advantages in inter-laboratory comparability, and helps researchers to address the topics of their interest more precisely.
More than 800 scientific publications in a vast area of applications highlight the potential of targeted metabolomics in basic research, epidemiology, clinical research, as well as pharmaceutical R&D.
Biocrates is the partner of choice for Metabolic Phenotyping.