Digitalization in medicine: mobile-based assay for determination of inflammation?
---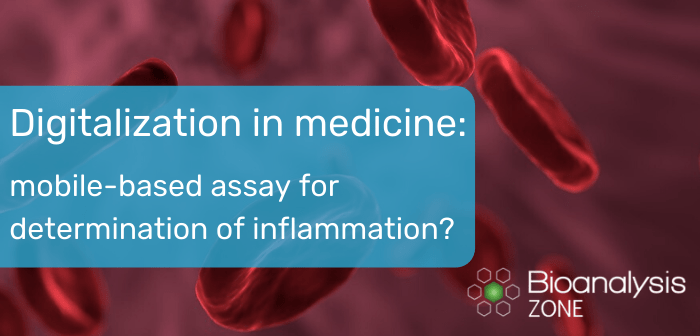 A rapid mobile-based assay for determination of inflammation through quantification of alpha-1-acid glycoprotein (AGA) has been developed by Dr Bryan M. Gannon from the team of Professor Saurabh Mehta at Cornell University (NY, USA).

The conducted research work, which was published in the November issue of the journal Current Research in Biotechnology, has provoked a high interest in the scientific community and the general public, since the newly developed assay yields numerous very attractive features such as ease of sample collection (not just blood, but also saliva, urine), rapid results (within 15 minutes), ease of assay use and digital integration facilitating easy storage, analysis and transmission of the generated data. Digitalization of medical applications represents an area of tremendous interest, in line with the currently happening digital transformation in many different industry sectors and in society as a whole. The development of a rapid point-of-care mobile-based assay for determination of inflammation is of special relevance, due to its broad potential applications (almost all diseases have some inflammation-related components and inflammation markers are also applicable as indication for the general 'health status' of the individual).

We interviewed Dr Gannon to get insights and background into the experimental progress and the potential applications and impacts of this exciting new assay-development work.
Q)

Dr Gannon, thank you for accepting our invitation to discuss your work. Can you introduce yourself and your professional background to our audience?
Dr Gannon: I am currently a postdoc working with Saurabh Mehta in the Division of Nutritional Sciences at Cornell University. I have a diverse scientific training that has been guided by trying to have a positive impact on human health and well-being. I focused on biochemistry and mathematics as an undergraduate (Marquette University, Milwaukee, WI, USA) and then did my PhD in Nutritional Sciences with a certificate in global health (University of Wisconsin-Madison, USA). I was fortunate to have had opportunities to work with international partners including as an intern in the Department of Nutrition for Health and Development at the World Health Organization and as a technical assistant for the International Atomic Energy Agency for nutrition related projects. My research mission is to empower individuals and communities, large and small, to use the best available science, technology and evidence to improve their lives, with an emphasis on health and well-being as key priorities.
Q)

What was the background of your research work?
Dr Gannon: Our research group is generally interested in facilitating easier biomarker assessment methods including point-of-care assays and saliva/urine sampling. Standard blood sampling and analysis has numerous draw backs ranging from the difficulty in accessing these tests, time delays until result and resources and personnel required to run tests. These issues are especially challenging for vulnerable populations that we are most interested in.
We are also focused on facilitating determination of inflammation. Inflammation is the body's response to a number of different stimuli. During strong stimuli, such as infections or trauma, there is a strong inflammatory response. However, low-grade, chronic inflammation can result from continuous exposure to contaminated food and water, or conditions such as obesity.
Our primary drive to develop point-of-care assays for inflammation stems from the close relationship between nutrition and inflammation. Inflammation alters how the body processes and uses nutrients and makes it challenging to assess nutritional status. If you perform a nutritional test to tell whether you are deficient or sufficient in a nutrient, you may get this answer wrong if you do not account for inflammation. By measuring inflammation the same time we measure nutrition, we can get a more accurate measure of your true status. Further, inflammation is a risk factor and marker for numerous diseases including CVD and cancer. Being able to easily measure inflammation can help individuals and populations gauge their risk for some of these chronic diseases, as well as monitor response to therapies designed to reduce inflammation.
Q)

How did you get interested to do research on this topic and how did your work start?
Dr Gannon: I personally became interested in point-of-care tests for nutritional and inflammatory status due to my previous research experience evaluating nutritionally enhanced food crops in a rural setting. Through this experience two critical needs became apparent: 1) individuals and communities need better access and more options to assess their own health status so they can make informed decisions about how to best improve their own health and 2) inflammation is a critical component of numerous processes within the body and it is vital to measure inflammation as a component of determining nutritional and health status.
Q)

What are the recent scientific trends and what do you find fascinating about this research area in general?
Dr Gannon: I'm personally interested in the rapid pace in change among technologies and people's relationship to it. Personal technology access, more individualized healthcare, machine learning approaches and advances in scientific equipment will open doors to innovative new solutions that can be scaled within a relatively short number of years to have a significant global impact. Point-of-care diagnostics can decentralize assessment, shorten the time between sampling and result and incorporate innovative designs and applications to reduce cost and increase access.
Q)

How challenging was the work progress? Were there some steps that proved to be especially difficult or unexpectedly easy? 
Dr Gannon: My mentors and collaborative team provided a strong framework to make developmental leaps. For example, finding initial working conditions for the assay took time, but was guided by discussions with other graduate students and postdocs in the group with relevant experience. Once the assay was giving adequate signal, the established mobile platform and image processing algorithm was easy to adapt to this assay.
One of our primary challenges was that we initially only had samples from healthy individuals, but we needed to be able to verify the assay with samples from individuals with inflammation. I was fortunate to have a clinical mentor for this development through the Weill Cornell Clinical and Translational Science Center (NY, USA). Through this collaboration, we were able to leverage archived samples and validate the assay.
Paradoxically, having too much of the biomarker in blood can make assays that use antibodies more difficult to develop and expensive to produce. While our initial intention was to use blood, a moment of inspiration was that we could additionally use saliva and urine as dilute sources of these biomarkers. It was relatively easy to adapt the assay to accommodate all sample types. There is currently a strong interest and research push to use more non-invasive samples, such as saliva or urine, to assess and promote health and wellness. We hope that assays like this can make these technologies more accessible to populations in which blood sampling is challenging or unacceptable.
Q)

Do you have some tips for fellow researchers working on related areas?
Dr Gannon: For new assay development, having a development and validation pipeline in mind before beginning can ensure smooth progress. The ultimate goal is to develop a test that can be translated into improving patient or population important outcomes. In our opinion, the assay has the greatest chance of success if the test will provide valuable information in the clinical pathway and is validated using the most applicable patients, samples and reference methods.
Q)

What are the strengths of the newly developed assay and are there some down sides? How do you position your assay if you need to compare it to existing alternatives?
Dr Gannon: The strengths of our assay format include ease of sample collection, ease of assay use, lack of hazardous chemicals required for the assay, rapid results and the ability to store and ship the assay for use anywhere. With the ease of access, care will need to be taken to make sure that data obtained is handled and acted upon in an appropriate manner. Interactions and guiding interpretation by medical professionals will still be important, as well as data safety and security.
Q)

Are we going to see soon your assay widely adopted in the clinical practice and what further steps are needed for this to happen? What are the most important potential applications?
Dr Gannon: The technology can be licensed and adopted by commercial manufacturers for regulatory approvals and production. Some potential applications will include inflammatory biomarker determination for prognosis or monitoring of conditions that are known to affect or be affected by inflammation. We also see applications for more accurately determining nutritional status including large scale surveys such as the Demographic and Health Surveys (DHS) and those recommended by the World Health Organization.
Inflammation is becoming increasingly recognized as an important target that can be modified with medication, for example the CANTOS trial that targeted inflammation to reduce cardiovascular events. This technology could facilitate monitoring the downstream response to these therapies. Further, wellness intervention targeting lowering inflammation, such as diet and exercise, will able to be monitored as well for individualized effectiveness.
Q)

What are the directions of your future work?
Dr Gannon: Regarding future directions of the assay, multiplexing the test to additionally measure other nutritional or inflammatory biomarkers will provide more information for users. For example, our group also developed a multiplex assay to assess biomarkers for vitamin A, iron and C-reactive protein from blood (Lu et al. 2017, doi: 10.1073/pnas.1711464114). Commercial equipment and production will reduce the variability and further improve test performance.
One of the areas our group is interested in pursuing is more acceptable and easier forms of sample collection, particularly for populations where blood sampling is challenging or unacceptable. Saliva and urine are non-invasive samples that do not require trained personnel to collect. We are interested in further exploring and validating these sources for nutritional and inflammatory biomarkers.
Q)

Considering the overall technology advances, what are your prognosis for future developments and applications in the area?
Dr Gannon: Some of the challenges in dealing with saliva or urine is that some biomarkers may be very dilute or not reflect serum levels. Given the advances in instrument sensitivity, there are new and exciting stable isotope tracer and high-sensitivity –omics approaches that will allow us to push the boundaries of current methods and bypass some of these limitations.
Q)

For our readers who are interested to learn more about the discussed topics – would you like to recommend some further valuable information sources?
Dr Gannon:
1) World Health Organization, Vitamin and Mineral Nutrition Information System (VMNIS)
2) Raiten DJ et al. Inflammation and nutritional science for programs/policies and interpretation of research evidence (INSPIRE). J. Nutr. 145(5), 1039S–1108S (2015).
3) Biomarkers Reflecting Inflammation and Nutritional Determinants of Anemia
4) Aday AW and Ridker PM. Antiinflammatory therapy in clinical care: The CANTOS trial and beyond front cardiovasc med. Front. Cardiovasc. Med. 5, 62 (2018).
Thank you very much for talking to us.
---
Atanas G. Atanasov is a leading scientist interested in molecular medicine and digital health, Editor-in-Chief of CRBIOTECH and Executive Director of INPST. Social media contact: Twitter, LinkedIn, Facebook.
---