EBF 2019 – conference highlights
---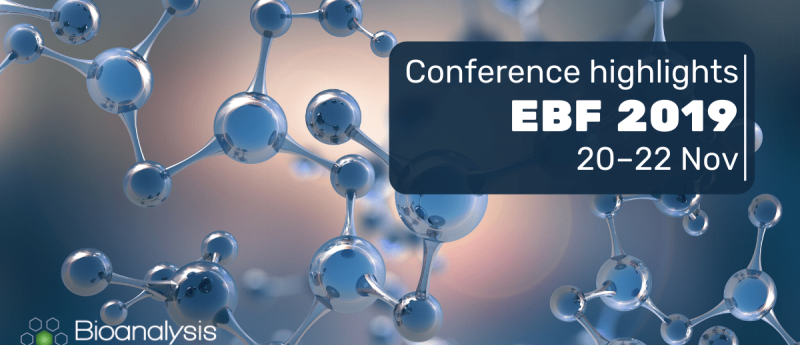 The Bioanalysis and Bioanalysis Zone team attended the 12th EBF Open Symposium (20–22 November; Barcelona, Spain). The 3-day conference invited registrants to imagine a new bioanalytical earthrise featuring open bioanalytical discussions on topics ranging from automated workflows to patient-centric sampling and, in this report, we share five of our key highlights and take away messages.
1. Imagine: from Apollo 8 to bioanalysis today
Day 1 began with a launch speech from Philip Timmerman (EBF; Barcelona, Spain) revolving around themes of astronauts and the moon landing. Taking inspiration from these, he theorized on the future of bioanalysis and what is needed for harmonization within the field. The session that followed, chaired by Steve White (GSK; London, UK), focused on achievements and challenges of automation solutions in bioanalytical laboratories.
2. Automation in a CRO environment – the challenge to invest, implement and integrate
During this session Michael Wright (LGC, Cambridge, UK) discussed three different types of automation; liquid handlers/sample manipulators, black box clinical analyzers and software platforms.  He highlighted the challenges of automation including the use of different types of test tubes and the cost of re-aliquoting samples. Michael talked through the 'islands of automation approach' where refined technology is automated in a single step of the process. As technologies continue to advance and automation becomes increasingly important, he reminded registrants that total process automation is only as strong as the weakest link.
Whilst acknowledging that there are benefits to automated workflows, Wright proposed that these are not always suitable for CROs due to the flexibility they require to provide a wide range of services.  He notes that his experience of forcing flexibility into these workflows can result in knocking them out in part or in whole. The solution? Wright jokingly recommended breaking the equipment intentionally so as to gauge the response time from the engineers responsible for fixing them.
As well as hardware, Wright discussed software and how, to allow for flexibility, software has to be complex, meaning it may it not be suitable for the task in hand.  The example given was chromatographic peak processing software.  Visual identification of peaks is not easily done by computers as they can struggle to identify the right peak or integrate the base line correctly. Checking these by eye, however, can also be challenging and time consuming.  A solution to this was an algorithm-based software Wright has come across that maps the peaks and turns them into equations to identify where they start and end, eventually producing a peak score.
3. Volumetric absorptive microsampling (VAMS) in a hospital setting. Are we there yet?
In this talk Remco Koster (PRA Health Sciences, Netherlands) spoke about their collaborative work with the University of Groningen (Netherlands) where they compared VAMS and  dried blood spots (DBS) during therapeutic drug monitoring (TDM) studies of tacrolimus, an immunosuppressive drug. In regulated hospital settings, 130 kidney transplant patients participated where both sampling techniques were shown to be suitable for patients, but DBS were considered better. Remco concluded to say this does not mean VAMS will be replaced by DBS and the improvements are yet to be realized. Such studies are important in demonstrating the practicalities of such sampling methods in clinical/hospital settings.
Click here for a full list of upcoming events and conferences
4. Automation in a regulated bioanalytical lab – experience from a 5-year journey from manual to 100% automated workflows
Nils Boehm (AbbVie; Ludwigshafen, Germany) began by speaking on his experiences of converting from a manual to an automated workflow in the lab. The conversion to automated workflows began when his team realized they had 35,000 samples to process within 5 months, but with the capacity for only 12,000 and no options for outsourcing or increasing numbers, conversion to automated workflows was required to meet the target.
Whilst not always a smooth journey, Boehm reported that automation in the lab has improved analytical performance, user management and scalability of operations, as well as increased the traceability of samples due to the barcode system on tubes not allowing for any samples to be lost or switched. However, Boehm did advise that this did not come without challenges.  He advised that error handling should be defined early and those using the system should be trained on how best to manage error handling, as in his experience, this was a particular source of downtime.  He concluded his insightful talk with advice for anyone considering embarking on the same journey.  Boehm suggested involving IT systems early to manage issues with data storage and back up, ensuring the vendors you are working with are interested in a long term partnership and, most importantly, identifying key members of the team that are interested and enthusiastic about implementing new systems and willing to assist with the change-over.
5. An update from the community on patient-centric sampling – turning imagination into reality
The afternoon session on patient-centric sampling concluded with a talk by Neil Spooner (Spooner Bioanalytical Solutions Ltd; Hertford, UK) on behalf of the AAPS community. Spooner described how change is difficult in this field, however, there are a number of organizations working across boundaries to achieve advances in patient-centric sampling as a whole.  He mentioned how one achievement is the workshop to be held on this topic at the Land-O-Lakes conference in 2020 with full partnership from the US FDA.  Also, he discussed groups, that he is personally very excited to be involved with, such as the Patient Centric Sampling Interest Group which now has over 90 members and is free to join. This group is a collection of individuals across Pharma, CROs, biotechs, hospitals, vendors, consultancies and publishers that are interested in collaborating to improve industry standards and engagement.  He concluded by discussing how organizations such as EBF and CPSA are also making strides in this area.
---
---