COVID-19 update: following public consultation, the WRIB Organizing Committee have made the decision to host WRIB 2020 in a virtual conference format. WRIB 2020 will be delivered virtually during 15–29 June daily from 11am–5pm [ET].
The Virtual Conference will give attendees the opportunity to:
Clearly access presentation slides and watch presentations through multiple times and on-demand whenever you want.
Attend a new late breaking session on COVID-19 that has been added alongside a specific track on cytometry and vaccines.

Ask questions to industry leaders and regulators
Ask questions during the Q&A panel sessions either by texting your questions or raising your hand and asking directly.
Get involved with online live polls and live quizzes.
Ask questions to speakers and Q&A panelists after the live presentations and panel discussions, through text chatting or video chatting with speakers and panelists any time you like throughout the virtual conference days.
Extended Q&A time from 15min to 30min for each session to accommodate even more questions
WRIB signature Regulators' Panel Discussions will be doubled in time and scheduled live twice on two separate days to make sure everyone has the chance to ask their questions to regulators
For EU and AP attendees with time difference, and those who would like to ask a question anonymously to the regulators, there is a dedicated question submission page on WRIB website where you can submit your question(s) beforehand. Questions will be forwarded to the dedicated chairperson which will be addressed during the regulators panel discussions even if you are absent
You can also ask questions to regulators and receive answers before and after the live Regulators Panel discussions, through a dedicated 'Q&A with Regulators' conversation feed (chat room) in virtual conference platform throughout the virtual conference days
Extended White Paper Consensus Presentations and White Paper Experts Panel Discussions with Industry Leaders on each specific topic of your interest
Interact with colleagues, exhibitors and poster presenters
You will be able to see the Attendee List, so you will know which colleagues and friends in the bioanalytical community are attending, and say hello to them through text chat or video chat directly in the virtual conference platform
You will still get to meet the suppliers you work with, at their Virtual Booth, where you can text chat or video chat with your favourite sales/BD representative.
You will still get to check out different solutions and technologies in the Virtual Exhibit Hall with many virtual booths, and chat with booth personnel if you like. They will still be offering attractive giveaways, which will be mailed to you afterwards. You can still "drop your business card" to have a chance to win a big prize too!
You will still get to view the exciting, innovative, strictly selected and high quality posters of WRIB, in the Virtual Poster Hall – you can ask your questions directly to the poster presenter there through either text chat or video chat. Bonus: Each poster presenter will also record a 5min presentation to introduce their poster, you can now listen to the poster presentation if you do not want to read the poster!
---
You might also like…
---
At the 14th WRIB 2020, interact with Regulators…
14th WRIB will again have the traditional interactive regulators' sessions including presentations and panel discussions with global regulators on bioanalysis, biomarkers, immunogenicity, and gene therapy! Hear regulators' advice and ask them questions directly!
You can also submit your questions to regulators online before the meeting (anonymously if you choose to) and we will forward these questions to the relevant regulators so they can be addressed during the meeting.
Participating regulators at the 14th WRIB will again include all major and influential regulatory agencies in north america, europe, latin america and asia.
---
Interested in attending WRIB 2020?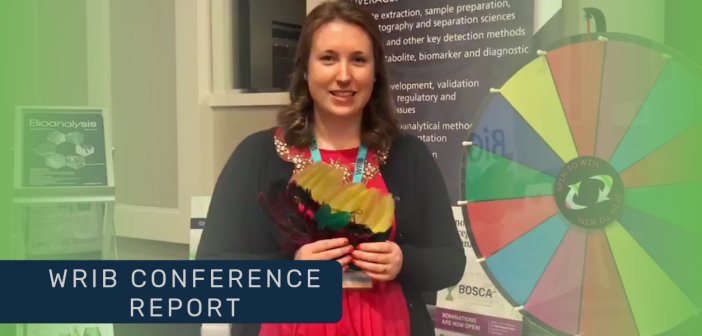 Check out our conference report from WRIB 2019
Event Details
Start Date

Jun 15, 2020

End Date

Jun 29, 2020

Venue

Virtual conference,
United States


Website