James Munday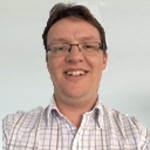 James Munday gained his D.Phil at the University of Oxford working in the field of cellular and molecular immunology. He then went onto to do his postdoctoral studies at the Mount Sinai School of Medicine in New York where he published his work on transcription factor regulation of hematopoiesis and vasculogenesis. Following on from his academic career he moved into industry posts at Celltech, UCB and Quotient Bioresearch. His current role is a Senior Scientific Director at Covance where he has extensive experience of supporting large molecule drug development programs with a variety of analytical assays for assessing PK, ADA, PD and biomarkers. James has had an active role in European Bioanalysis Forum working with other members to seek alignment on a broad array of bioanalytical topics including science, procedures, business tools and technology, and regulatory issues.
What three things would you take if you were stranded on a desert island?
If you weren't a bioanalysts what would you be?
What is your favorite city?
Why have you decided to become a Zone Leader?
Keen to learn about new developments within the industry and help guide bioanlysis for other people in the industry based on experience of working in the industry for many years.
---