Timothy Garrett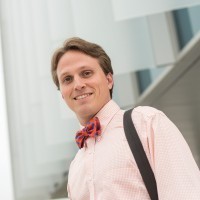 Timothy J Garrett earned his Bachelor's in Chemistry from the University of Georgia (Athens, GA) in 1999. After working in industry for a couple of years, he returned to school for graduate study at the University of Florida (Gainesville, FL) where he earned a Doctor of Philosophy in 2006. Dr Garrett then translated to an assistant professor position in the College of Medicine at the University of Florida, and assumed operation of the Biomedical Mass Spectrometry facility. He has focused his work on expanding the use of MS in clinical sciences through education, analysis, and collaboration.
At present, Dr Garrett has collaborated with over 30 faculty members at the University of Florida. Dr Garrett is currently an assistant professor in the Department of Pathology, Immunology and Laboratory Medicine at the University of Florida. He is director of the high-throughput MS metabolomics core of the Southeast Center for Integrated Metabolomics (SECIM) and works closely with University of Florida PathLabs to grow and expand MS services for diagnostics.
What three things would you take if you were stranded on a desert island?
If you weren't a bioanalyst, what would you be?
an owner of a movie theater
What is your favorite city?
Why have you decided to become a Zone Leader?
I want to share my experience and expertise with community.
---
Journal articles from Bioanalysis
Panel discussions
Articles
Features