1. Meet the experts on biologics by LC–MS
---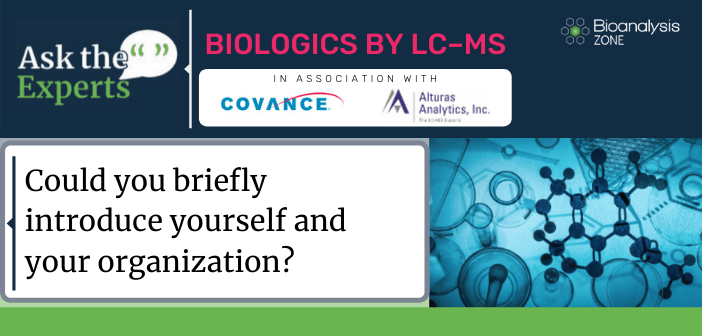 Meet the experts for our new 'Ask the Experts' feature that probes the latest perspectives and research surrounding the analysis of biologics by LC–MS.
---
Could you briefly introduce yourself and your organization?
Chad Christianson (Alturas Analytics)

Chad has 20 years of related experience as an analytical scientist with over 16 years focused on bioanalysis at Alturas Analytics (ID, USA). This depth of experience in applied LC–MS/MS and GC–MS/MS, along with an education in chemical engineering provides the backbone for productive and innovative science. Chad leads the biologics quantitation group at Alturas, applying novel techniques to a regulated, high-throughput production environment. As a Senior Principal Scientist Chad's primary focus is LC–MS/MS method development, validation and sample analysis for small new chemical entities, biologics and antibody drug conjugate (ADC) programs in accordance with GLP guidelines. In addition, Chad leads a team of scientists as Study Director and Principal Investigator, providing technical oversight to clients across all therapeutic areas.
Matthew Ewles (Covance)

Covance is a global and comprehensive drug development CRO. I joined the LC–MS/MS bioanalysis group at Harrogate (UK) in 2006 and now serve as the operations lead for the method development group. Our group routinely performs analysis of a variety of small molecules, oligonucleotides, peptides and proteins. Due to my PhD research background in protein biochemistry and molecular biology, I specialize in developing LC–MS/MS methods for a variety of biologics.
Wenying Jian (Janssen Research & Development)

I am currently a senior principal scientist of the department of Drug Metabolism and Pharmacokinetics of Janssen Research and Development, Johnson and Johnson (NJ, USA).  I am leading a group to provide bioanalytical support for drug discovery and development programs including small and large molecule therapeutics, peptides, oligonucleotides, biomarkers, metabolomics and so on. I received my BS in Pharmacy from Beijing Medical University (China), MS in Microbiology from the Chinese Academy of Sciences (Beijing, China) and PhD in Pharmacology from the University of Pennsylvania (PA, USA) under the supervision of Dr Ian Blair. After graduation, I worked for Bristol-Myers Squibb (NY, USA) and then Johnson and Johnson to support various bioanalytical activities in discovery, preclinical and clinical studies. I have published over 50 peer-reviewed journal papers and book chapters and co-edited two books: 'Targeted biomarker quantitation by LC–MS [1]' and 'Sample Preparation in LC–MS Bioanalysis [2]'. I currently serve on the editorial board of Journal of Pharmacological and Toxicological Methods and the board of Eastern Analytical Symposium (NJ, USA). I also contribute to the bioanalysis community by giving presentations, lectures and short courses.

References

[1] Targeted biomarker quantitation by LC–MS (1st Edition). Weng N and Jian W (Ed.) John Wiley & Sons, NJ, USA, 2017.

[2] Sample preparation in LC–MS bioanalysis (1st Edition). Li W, Jian W and Fu Y (Ed.) John Wiley & Sons, NJ, USA, 2019.
Carsten Krantz (Novartis)

Carsten Krantz is currently working as a Senior Principal Scientist in the Bioanalytical Portfolio Group in Novartis Institutes for Biomedical Research (Basel, Switzerland).  He received his Masters at the Mannheim University of Applied Sciences, Germany and earned a PhD. in Cell Biology working on Glycobiology from the University Basel, Switzerland. Subsequently he worked as an application chemist for mass spectrometry at ThermoFisher Scientific (Basel, Switzerland). In 2010 he joined Novartis as laboratory head and implemented the analysis of biologics in a regulated environment by LC–MS/MS. During that time, he was involved in the quantitation of biologics across various modalities for the analysis of pharmacokinetics, pharmacodynamics or immunogenicity and introduced methodologies such as hybrid LBA/LC–MS or 2D-LC–MS/MS. In his present role, Carsten oversees the bioanalytical strategy for various disease areas and multi-specific modalities. He has a special interest in applying state-of-the-art technology to better understand the behavior of biologics in vivo and increase their safety profile.
Keeley Murphy (Thermo Fisher Scientific)

Keeley Murphy is a Software Product Manager with over 20 years' experience working in the fields of pharmaceutical and analytical science. Over the last 10 years, Keeley has worked within the BioPharma Marketing group at Thermo Fisher Scientific (MA, USA), providing global support for key customer collaborations and promoting the use of high resolution mass spectrometry for quantitative bioanalysis. Recently transitioning to the role of Software Product Manager, he is currently responsible for the development of software solutions to support LC–MS quantitation and screening workflows.

Over the last decade Keeley has been a key contributor to the numerous LC–MS product launches for both hardware and software technologies gaining a unique insight into the challenges faced by the bioanalytical scientist as well as direct exposure to the constantly evolving landscape and strategic focus of the pharmaceutical and analytical science community.

Prior to joining Thermo Fisher Scientific, Keeley earned his BS in Chemistry from Merrimack College (MA, USA) and has held positions in both pharmaceutical research and CROs, including at the Novartis Institute for Biomedical Research, in Cambridge, MA where he led LC–MS support for early ADME applications.

---
The opinions expressed in this feature are those of the authors and do not necessarily reflect the views of Bioanalysis Zone or Future Science Group.
---