Mitra Microsampling Device – 20 µL cartridge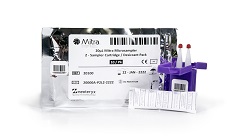 Neoteryx
http://www.neoteryx.com
info@neoteryx.com
Categories:
Sample preparation, extraction & collection
Other products in Sample preparation, extraction & collection
Collect 20 µL Blood Microsamples Anywhere, Anytime, by Anyone
The Mitra® 20 µL Cartridge Microsampler, based on Volumetric Absorptive Microsampling (VAMS™) technology, accurately and reliably collects 20 µL of blood (or other biological fluid) in seconds, while eliminating the volumetric hematocrit bias typically associated with the dried blood spotting technique. The cartridge format facilitates direct-patient and/or remote sampling as it includes barcodes for managing chain-of-custody as well as a re-sealable bag and desiccant for shipping samples to the lab.
Once the sample is collected, the Mitra Microsampler is dried, stored, and transported under ambient conditions eliminating the need for plasma processing steps and cold chain/biohazard transportation. To prepare samples for analysis, typically by LC/MS/MS or ELISA, an automatable extraction is performed with common solvents.
This CE/IVD and FDA Class 1 listed 20 µL device was primarily developed to meet the needs of pharmaceutical, clinical, biotech, and research organizations that have more stringent sensitivity requirements, analytes with very low concentrations, or older/less sensitive mass spectrometry instruments.
Watch video about Mitra Microsampling
Learn more
The Mitra Microsampler class I medical device is for direct specimen collection of blood and other biological fluids. It is not specific to any clinical test, and is not for use in diagnostic procedures. Use of the Mitra Microsampler in Laboratory Developed Tests (LDTs) requires further processing including the establishment of performance characteristics and successful validation by the laboratory in a manner consistent with CLIA requirements.