SMCxPRO™ immunoassay instrument and kits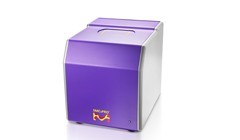 MilliporeSigma, Life Science business of Merck KGaA, Darmstadt, Germany
Categories:
Spotlight Posters
,
Spotlight Resources
,
Spotlights
,
Validation of biomarkers
Other products in Spotlight Posters
Other products in Spotlight Resources
Other products in Spotlights
Other products in Validation of biomarkers
Sensitivity You Can Count On
With the SMCxPRO™ platform you can detect extremely low-levels of established disease biomarkers, capturing concentrations down to the femtogram/mL level, and as a result monitor small changes in protein concentrations to accurately measure biomarkers associated with disease progression. In addition, the small sample volume requirements allow you to conserve valuable samples, reduce program costs and improve productivity. This affordable, fast and compact benchtop instrument allows research labs, including ones on a budget, to access reliable protein detection and expand the quest for drug discovery and development.
SMCxPRO™ Platform Benefits
High sensitivity (femtogram/mL) quantification
Minimal bench space: 14" W x 16" H x 17.5" D
Affordable
96-well plate read times of 30-45 minutes
Bead-based kits
Access to over 600 proven antibody pairs
Verified Immunoassay Kits for use on the SMCxPRO™
Description
Cat. No.
SMC™ Human IL-6 High
Sensitivity Immunoassay Kit
03-0155-00
SMC™ Human Cardiac
Troponin I High Sensitivity Immunoassay Kit
03-0154-00
SMC™ Amyloid Beta 1-42 High Sensitivity Immunoassay Kit
03-0146-00
SMC™ Glucagon High Sensitivity Immunoassay Kit
03-0153-00
SMC™ Human IL-1beta Immunoassay Kit
03-0028-00
SMC™ Human IL-4 Immunoassay Kit
03-0052-00
SMC™ Human IL-6 Immunoassay Kit
03-0089-01
SMC™ Human cTNI Immunoassay Kit
03-0092-00
SMC™ Human IL-23 Immunoassay Kit
03-0112-00
SMC™ Human IL-22 Immunoassay Kit
03-0059-01
SMC™ Human IL-13v2 Immunoassay Kit
03-0109-02
SMC™ Human TNF alpha Immunoassay Kit
03-0088-00
For a continuously expanding list of available kits for the SMCxPRO™ and for more information visit www.emdmillipore.com/smcxpro