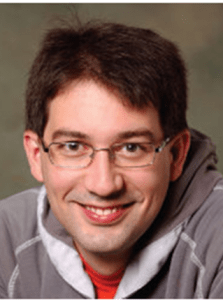 Nominee: Daniel Kolarich, Max Planck Institute of Colloids and Interfaces, Germany
Nominated By: Friedrich Altmann, University of Natural Resources and Applied Life Sciences, Vienna
Supporting Comments: By lucky coincidence, Daniel Kolarich and a Waters-Micromass ESI-QTOF mass spectrometer came into my lab at about the same time. Kolarich immediately recognized the opportunities offered by a high-end mass spectrometer and committed himself to the development of analytical tools for glycoproteins. Having a biotechnology background, Kolarich realized the necessity of viewing the glycan and the protein part as a unit. This led to a respectable number of publications on glycoproteins of bio-medical relevance and finally to two Nature Methods papers, for whom he was prominently responsible. Kolarich was never the person to content oneself with mediocrity. Instead of settling for a job in his home town, he headed out to work with the best in their field. After his post-doctoral reseasrch in Sydney, Australia he again decided for the steep and narrow way in an Max-Planck Institute alongside the world´s first address for glycan synthesis. His technical skills enable him to run his experiments with cutting edge standards. What convinces me most about his scientific attitude is his strong dedication to apply his analytical skills to real biological questions as the physiological significance of complex carbohydrates will be among the hottest topics in the coming years.
---
What drove you to choose a career in bioanalysis?
In the course of my academic education I became fascinated by biomolecules, in particular glycoproteins. I wanted to learn how these crucial biomolecules, their structure and functions can be studied using state of the art technologies. So in the course of my Master Thesis and PhD I got hooked on developing novel approaches for studying glycoproteins using MALDI and LC–ESI-MS. I soon realized that there is still a considerable need for simple and easily applicable analytical techniques for glycoproteomics, since these tools are one crucial backbone allowing us to bridge the gap from analysis to functional glycobiology.
Describe the main highlights of your bioanalytical research, and its importance to the bioanalytical community both now and in the future
Since both the protein backbone and the attached glycans define glycoprotein function, I always have aimed to link both aspects by developing and applying analytical techniques for glycoproteomics. Application of these techniques has enabled me to not just use the information obtained from traditional proteomics and glycomics approaches but directly link glycan structure data to particular sites within a glycoprotein. This is important since the majority of glycoproteins exhibit several glycosylation sites that often carry different glycan structures. We reported the first comprehensive in-depth characterization of alpha1-proteinase inhibitor an important plasma glycoprotein used in the treatment of alpha 1-antitrypsin deficiency. We could also uncover previously not described molecular differences of different A1PI products on the market. I also developed a highly sensitive technique to identify so called cross-reactive carbohydrate determinants from plant and insect allergens and discovered hitherto not described wasp allergens. I was also responsible for the first comprehensive glycoproteomic investigation of secretory immunoglobulin A (sIgA). In the course of this work we also developed 'GlycoSpectrumScan', a freely accessible and web-based bioinformatic tool for glycopeptide identification. Developing and providing these tools to the community has always been and will always be a central focus in my research.
Describe the most difficult challenge you have encountered in the laboratory and how you overcame it?
It would not be fair to name a particular challenge here. Thus, I would rather like to point out what basic rules I set up for myself to solve analytical challenges. What I consider even more important to overcome a difficult challenge in bioanalytical analyses is to keep on motivating yourself to not give up. I have learned to overcome challenges following four basic 'rules: 1.) Perseverance, 2.) Always change just one parameter at a time, 3.) Try to think out of the box – often the unconventional ideas are the interesting ones and 4.) Giving up is not an option. Trying to follow these rules helped me to overcome numerous challenges I have encountered of the years.
Where do you see your career in bioanalysis taking you?
Despite recent advances in glycoproteomics research there are still many white spots that need to be filled. Issues such as label-free quantiation, comprehensive automated characterisation and bioinformatic developments are still in its infancies compared to other omics sciences. In addition, syntehtically produced compounds have always been a major driver for analytical developments. Thus, my bioanalytical research focus aims to tie these aspects together. In my laboratory we are working on producing glycopeptides by synthetic routes providing sufficient amounts of well defined components for quantitative and qualitative glycoproteomics research. We also work on the automation of porous graphitized carbon LC–ESI-MS/MS for glycomics research and on specific enrichment strategies for glycosylated proteins derived from complex biological matrices. These key aspects require progress in bioanalytical developments make glycoproteomcis a broadly accessible tool for the global investigation of biologically relevant glycoproteins. This type of data will subsequently catalyze further functional glycobiology research and be an asset for biochemical research in general.
How do you envisage the field of bioanalysis evolving in the future?
Bioanalytical strategies in general are the crucial tools shedding light onto cellular processes. They are the extended 'eyes' and 'arms' of every scientist working in biological research. Our task as bioanalytical scientists is to push the limits of what can be visualized to better sensitivity, better accuracy, improved reliability while starting from a minimum amount of initial biological sample material. All this should be achieved trying to keep the methods as simple as possible. The better we achieve that aim, the more information can be gathered, subsequently resulting in a better understanding how cells work, interact and react. Every bit and piece that can be gained from these technologies represents one step forward into understanding, preventing and curing diseases and to hopefully make this world a better place for every living being.
Please list 5 of your recent publications, and select one that best highlights your career to date in the field of bioanalysis.
These publications provide an insight into previous and very recent achievements made in glycoproteomics research. They range from bioanalytical research on pharmaceutically relevant glycoproteins to recent developments made for targeting glycopeptides in a quantitative manner.
Kolarich D, Jensen PH, Altmann F, Packer NH. Determination of site-specific glycan heterogeneity on glycoproteins. Nat. Protoc. 7(7), 1285–1298 (2012).
Stavenhagen K, Hinneburg H, Thaysen-Andersen M et al. Quantitative mapping of glycoprotein mi-cro- and macro-heterogeneity: An evaluation of mass spectrometry signal strengths using synthetic peptides and glycopeptides. J. Mass Spectrom. (accepted) (2013).
Deshpande N, Jensen PH, Packer NH, Kolarich D. GlycoSpectrumScan: fishing glycopeptides from MS spectra of protease digests of human colostrum sIgA. J. Proteome Res. 9(2), 1063–1075 (2010).
Kolarich D, Turecek PL, Weber A et al. Biochemical, molecular characterization, and glycoproteomic analyses of alpha(1)-proteinase inhibitor products used for replacement therapy. Transfusion 46(11), 1959–1977 (2006).
Kolarich D, Weber A, Turecek PL, Schwarz HP, Altmann F. Comprehensive glyco-proteomic analysis of human alpha1-antitrypsin and its charge isoforms. Proteomics 6(11), 3369–3380 (2006).