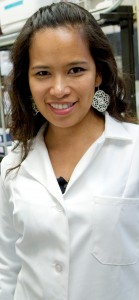 Nominee: Maria Lorna A De Leoz, National Institute of Standards & Technology, USA
Nominated By: Michael J Tarlov, National Institute of Standards & Technology, USA
Supporting Comments: Lorna joined The National Institute of Standards and Technology (NIST) as a NIST-American Recovery and Reinvestment Act (ARRA) Postdoctoral Fellow in June 2011, positions that were competitively awarded. Lorna's research involves the use of MS to characterize the complex sugar molecules, called glycans, that adorn many protein drugs and are important for their mechanism of action. Improved measurements for characterizing the composition and structure of glycans are needed by manufacturers and the US FDA for ensuring that these products are safe and effective. She is attempting to develop a comprehensive library of reference tandem mass spectra of glycans from protein drugs. Such a library would help to speed up analysis times and improve the accuracy and precision of these measurements. Lorna is extremely bright, creative, self-motivated, hardworking and a team player. In less than a year, she has made tremendous progress on her project. Indeed, Lorna's research was recognized in February at NIST's Annual Postdoctoral Poster Presentation where, competing against over 100 other postdocs, her work won best poster in the biotechnology category. In summary, Lorna is an outstanding young scientist and supremely deserving of the Bioanalysis Young Investigator Award.
---
Bioanalysis Zone asked Lorna to highlight one of her favorite published articles and explain her reasoning..
de Leoz ML, Young LJ, An HJ et al. High-mannose glycans are elevated during breast cancer progression. Mol. Cell. Proteomics M110.002717 (2011).
What were the most difficult challenges encountered in this study? And how were they overcome?
In our exploratory study on glycan biomarkers for breast cancer, we had limited amounts of serum samples to work with. We practiced on a commercial human serum sample, trying out different conditions to optimize our methods. We set strict QC, for example, number of ions in the FT-ICR cell and the pressure on the instrument. In the end, we did three replicates per sample and used robots to treat our samples similarly.
The low-abundant glycans were a challenge to monitor. We fractionated our samples into three acetonitrile fractions to observe these glycans. In addition, we had to quantitate using an internal standard to correct intensities in the human serum samples.
The data analysis proved to be challenging. We have accumulated massive amounts of data for this timecourse study. Noticing that most of the tasks are repetitive, I wrote short programs to automate data analysis and recheck my calculations. Finally, to make sure that the study was on the right track, I consulted with a statistician for the statistical analyses, and constantly bounced ideas off with my professor, collaborators and other graduate students in the laboratory.
Which areas of your research did you find the most interesting/enjoyable and why? By comparison, which were the least agreeable?
I appreciated the fact that I was in charge of the study from start to finish – from planning, sample preparation, MS analysis, and finally to data analysis. This boosted my confidence, forced me to think critically and broadened my perspectives. Meetings with collaborators proved to be beneficial in order to understand the whole concept of the study. I kept an open mind on the data analysis. We were surprised to find that the abundance high-mannose glycans correlated well with breast cancer progression in both the human and mouse serum samples. At first, the result did not appear to make sense, but then we realized that the products might be indicative of the early termination of the glycan pathway, and, at this point, the results fell into place.
The least desirable aspect of the project was perhaps also the most necessary. Since I was unsure of the results, that is, the high-mannose glycans being elevated in breast cancer, I repeated and verified the experiments and data analyses several times to ensure the quality of the results. However, once I was certain of the results, I became more convinced of other explanations that lead me to the main conclusion of the paper.
---
Colleague quotes
Here is what some of Lorna's friends and colleagues had to say about her.
Stephen E. Stein, National Institute of Standards and Technology, Gaithersburg, USA
In your opinion, what are this Young Investigator's key attributes?
"Lorna is very interactive, inquisitive, imaginative and persistent – always looking for the best way to solve problems and get work done."
How are these qualities highlighted in their research and day-to-day activities?
"Once Lorna is aware of the nature of the problem and the tools available for resolution, she will find a way to solve the problem, identifying whatever information and individuals are needed. She tackles problems optimistically and fearlessly – knowing she will find a path to the solution."
Outside the field of their bioanalytical studies, what does this nominee like to do in their spare time? Is there anything particular they like to talk about?
"She is a talented singer and active mother who wants to have a positive impact in the world. It seems, she is very eclectic in her taste."
Are there any eccentric and original characteristics that best summarize this nominee? If so, what are these?
"She likes to say she is sorry for pushing so hard, then pushes again."
If they weren't pursuing a career in bioanalytical research, what profession do you envisage this nominee embarking on?
"She could organize groups of people to accomplish any task using her interpersonal skills, overview and persistence."
What separates this Young Investigation from other up-and-coming bioanalysts in their field? How will this aid them in the future?
"She has an unusual combination of technical ability and interpersonal skill, and, along with her ability to create well designed and delivered presentations, I expect her to become a leader in the field."
Joseph A. O'Donnell, California Dairy Research Foundation, Davis, USA
In your opinion, what are this Young Investigator's key attributes?
"A delight to work with, attitude of excellence on all facets of her well-balanced life and sets a high bar for performance."
How are these qualities highlighted in their research and day-to-day activities?
"In my role as the Executive Director of one of the organizations funding Lorna's professors' laboratory, I am dependent on those researchers to be able to articulate their work to a variety of audiences. Lorna does this very well. Lorna is a high achiever yet balances her work extraordinarily well with family and community life. This even-keeled attitude spreads to others, bringing inspiration and calmness to all. Lorna has a well-developed sense of community, and the community responds in supporting her."
Outside the field of their bioanalytical studies, what does this nominee like to do in their spare time? Is there anything particular they like to talk about?
"Lorna has an excellent singing voice, which she shares in a leading position at church. Her faith is very important to her and that attitude affects many. Also, as a consummate mother of young children she would gladly discuss their latest exploits."
Are there any eccentric and original characteristics that best summarize this nominee? If so, what are these?
"In spite of her talents, Lorna can be shy. Nevertheless she does not turn away from leadership. Her absolute drive to improve the health status of the global population readily prompts her to engage all obstacles. Furthermore, she has defeated any constraints that may have been associated with being an immigrant. She is much loved by her highly diverse community."
If they weren't pursuing a career in bioanalytical research, what profession do you envisage this nominee embarking on?
"Difficult to say. Lorna has many talents but given her devotion to family and a husband who travels, she would probably choose a profession with controllable travel. It would be a 'giving' profession in the health field."
What separates this Young Investigation from other up-and-coming bioanalysts in their field? How will this aid them in the future?
"Lorna has studied with the best, but I assume so have the other Young Investigator candidates. The separation comes not from the science skill set but on attitude toward life. Lorna is competitive yet loving and caring. She will work to support a team and a community. The balance is extraordinary. She would be an excellent mentor to those that follow her, as she truly cares. This attitude is clearly reflected in her paper. Making the world a healthier place truly drives her."
Fabian M. Dayrit, Ateneo de Manila University, Philippines
In your opinion, what are this Young Investigator's key attributes?
"Lorna is very passionate about her work and this is what drives her to be hard-working and dedicated. She pushes on despite problems and disappointments. Lorna is interdisciplinary in outlook and maintains an open mind in her thinking. This enables her to identify opportunities. To complement her interdisciplinary outlook, Lorna knows how to seek out advice from experts. Finally, she is a decisive risk-taker. She is willing to go beyond proving success in the laboratory and in publications; she wants to take her technologies out of the laboratory and into society where these can benefit people."
How are these qualities highlighted in their research and day-to-day activities?
"I was one of Lorna's faculty mentors during her undergraduate studies at Ateneo de Manila University and, unfortunately, have not had direct experience with her since then. However, I have kept in touch with her and can say that she has maintained all of the good characteristics that I knew, as well as improved on many others."
Outside the field of their bioanalytical studies, what does this nominee like to do in their spare time? Is there anything particular they like to talk about?
"Lorna is very artistic. She was a member of the university glee club during her undergraduate days, which was very demanding on her time because they had frequent performances and international tours. Nevertheless, she was able to successfully manage her time between two demanding commitments: her chemistry studies and her glee club activities."
Are there any eccentric and original characteristics that best summarize this nominee? If so, what are these?
"Lorna is an exceptional blend of science, the arts and entrepreneurship. She is an analytical observer, an expressive artist and risk-taker. She is able to relate well and understand a broad range of people. There are very few people who combine these characteristics and, for this reason, I think that her reach is broad."
If they weren't pursuing a career in bioanalytical research, what profession do you envisage this nominee embarking on?
"If she were not a scientist/entrepreneur, Lorna could be involved in developing and managing science or art museums. I imagine that this alternative career will bring out the many facets of Lorna's talents and passion."
What separates this Young Investigation from other up-and-coming bioanalysts in their field? How will this aid them in the future?
"The pool of up-and-coming bioanalysts are all very accomplished and technically proficient. However, there are two characteristics that I believe make Lorna different: she is highly interdisciplinary in outlook and able to use this to think outside of the box, to identify the essence of the problem and design solutions."
Mark A. Underwood, University of California Davis School of Medicine, USA
In your opinion, what are this Young Investigator's key attributes?
"The foundational attributes are diligence and determination. As a graduate student, Lorna worked diligently to develop novel methods of glycan analysis. This was very challenging work. Layered on top of diligence and determination are the attributes of intelligence and clarity. Lorna has a talent for making complex concepts clear to those outside her field."
How are these qualities highlighted in their research and day-to-day activities?
"The diligence and determination are manifest in sheer hard work and volume of accomplishment. Her intelligence and clarity come out in informal discussions and formal presentations."
Outside the field of their bioanalytical studies, what does this nominee like to do in their spare time? Is there anything particular they like to talk about?
"Lorna enjoys being a mother. Her family is of central importance. She makes this most valuable contribution a high priority without compromising her science."
If they weren't pursuing a career in bioanalytical research, what profession do you envisage this nominee embarking on?
"I suspect Lorna would be successful in almost any endeavor."
What separates this Young Investigation from other up-and-coming bioanalysts in their field? How will this aid them in the future?
"Lorna is well grounded. Her background and experiences allow her to value both the power of science and the necessity of human kindness in making the world a better place. Her life balance skills will serve her well."