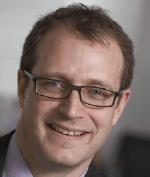 Prior to joining inVentiv Health as Director of Ligand Binding Services in 2010, Chris served as Scientific Director of the Ligand Binding/Cell Based Assays at MDS Pharma Services' North American macromolecule bioanalytical operations. He has been responsible supervising the development and validation of all bioanalytical methods for the measurement of pharmaceuticals and biomarkers, immunogenicity testing and Cell Based neutralizing antibody assays.
He previously held the position of Associate Director of Ligand Binding Services/Cell Based Assays overseeing the Montreal, Quebec operations. Before joining MDS Pharma Services in 2004 as a Team Leader in the Ligand Binding Department, Dr. Beaver served as an investigator at Cogent Neuroscience, a startup biotech company in North Carolina's RTP.
Dr. Beaver obtained his PhD in Neuroscience at Dalhousie University in Canada in 1995. From 1996 to 2001, he performed his post-doctoral studies at Yale University, focusing on the role of cyclic nucleotides in neuronal development, publishing papers in several journals including Nature Neuroscience.
---
Short interview
1. What are your main areas of interest within bioanalysis?
Ligand Binding Assays (PK and Immunogenicity), Antibody-Drug Conjugates, Protein mass spectrometry, Biotransformation
2. Describe your current role in under 20 words.
Head of inVentiv Health Clinical's macromolecule bioanalytical operations, overseeing methods for the measurement of therapeutics, biomarkers, immunogenicity and neutralizing antibodies.
3. How many years of experience do you have in the bioanalytical field?
10 years
4. How many papers have you published in total?
18
6. Which conferences have you attended in the past year?
AAPS Annual Meeting, AAPS National Biotech meeting, EBF 5th Open Meeting, Workshop on Recent Issues in Bioanalysis, Biosimilars Asia conference (Shanghai), Korea Biologics
7. Which countries have you visited in the past year?
USA, Switzerland, Spain, Denmark, UK, Germany, China, Japan, Korea, Taiwan, Belgium, Czech Republic, Hungary,
8. What social media tools do you use?
LinkedIn, Facebook
9. Coffee or tea? How many cups a day?
Coffee – 3 cups per day
10. Make mine a … (favourite drink)
Scotch
11. If I weren't a bioanalyst I would be… (alternative career)
Bicycle Tour company operator
12. You'd be surprised to know that I…
have a brother who is a professional violinist