By:
Afshin Safavi, Founder & Chief Scientific Officer, BioAgilytix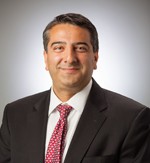 Afshin Safavi is a veteran biochemist with extensive experience establishing and leading bioanalytical teams in pharmaceutical, biotechnology, and manufacturing companies, as well as CROs. He and his teams have supported the development of a broad range of therapeutics in pre-clinical and clinical-trial laboratories. Prior to founding BioAgilytix, he was the Director of Ligand Binding and Immunoassay, operating under GLP at AAIPharma. At Talecris BioTherapeutics, he led the Preclinical and Clinical Assay Development team, building on his experience as a senior scientist at Nobex Corporation, GlaxoSmithKline and IGEN International.
Safavi is considered an expert in the area of immunoassays, with a wide working knowledge of various platforms. He obtained his BS in Biochemistry from UCLA (CA, USA), his PhD in Biochemistry from the University of Kentucky's Medical School (Department of Biochemistry) (KY, USA), and he completed a 2 year postdoctoral assignment at Emory University's Department of Pathology (GA, USA).
---
In my previous article published in July 2015 on Bioanalysis Zone, I briefly described how I established a successful CRO using personal credit. In this article, I would like to share with you some of the practices that I employed to identify, interview, recruit and retain the individuals who helped me to build and grow BioAgilytix. Please note that for the purposes of this article, my focus is on the recruitment process utilized for building our Scientific and Operational Teams and does not include practices used for the recruitment of Executive, Finance, Sales, or Marketing Teams.
Before exploring the details of successful talent recruitment and employee retention, it is very important for executives of CRO companies to recognize that the most important factor in making a CRO successful is the people that you hire i.e., teams that interact with clients, run the facility and perform the scientific analyses. A CRO can have the latest and greatest platform instruments and technology, but these novel tools would be a wasted investment without client-driven scientists who understand how to properly use the technology and interpret the data generated.
Click here to view all other articles in this series.
Click here to view BioAgilytix's company profile.