By:
Afshin Safavi, Founder & Chief Scientific Officer, BioAgilytix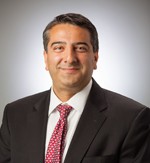 Afshin Safavi is a veteran biochemist with extensive experience establishing and leading bioanalytical teams in pharmaceutical, biotechnology, and manufacturing companies, as well as CROs. He and his teams have supported the development of a broad range of therapeutics in pre-clinical and clinical-trial laboratories. Prior to founding BioAgilytix, he was the Director of Ligand Binding and Immunoassay, operating under GLP at AAIPharma. At Talecris BioTherapeutics, he led the Preclinical and Clinical Assay Development team, building on his experience as a senior scientist at Nobex Corporation, GlaxoSmithKline and IGEN International.
Safavi is considered an expert in the area of immunoassays, with a wide working knowledge of various platforms. He obtained his BS in Biochemistry from UCLA (CA, USA), his PhD in Biochemistry from the University of Kentucky's Medical School (Department of Biochemistry) (KY, USA), and he completed a 2 year postdoctoral assignment at Emory University's Department of Pathology (GA, USA).
---
In my previous articles published in July and August 2015 on Bioanalysis Zone, I briefly described how I established a successful CRO using personal credit, and how I surrounded myself with an 'A' team. In this article, I would like to share with you perhaps the most important element in a successful CRO/Client relationship, and that is: TRUST. The act of building trust with your pharmaceutical and biotech clients is similar to how trust is built between friends – both require time, mutual respect and appreciation. However, the components required to build trust between a CRO and its clients are complicated due to the involvement of various teams in this matrix relationship. I will discuss how numerous teams within the CRO and sponsor organization work together to establish trust, and ultimately a fruitful partnership.
I would like to begin by noting a common challenge faced when building a strong partnership based on trust. No client will start by giving you their biggest and most important project without first having an opportunity to see how you perform on a 'pilot' task. There are instances that may shorten the timeline to receiving a large project, such as the caliber of the CRO's scientific team, but patience is key. Most clients prefer to approach the vendor relationship cautiously and determine how the CRO will perform before entrusting them with vital projects. Therefore, trust in our industry can only be gained over time through the demonstration of scientific acumen and transparent business strategies. Additionally, a successful CRO will ensure that client trust is established amongst all parties involved in the business transaction. The various teams within individual CRO, biotech and pharma companies may differ slightly in name, but the functionalities of these teams are similar. Companies on both sides of the business transaction usually possess executive, finance, scientific, quality assurance and sales teams.
Click here to view all other articles in this series.
Click here to view BioAgilytix's company profile.