By:
Afshin Safavi, Founder & Chief Scientific Officer, BioAgilytix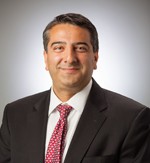 Afshin Safavi is a veteran biochemist with extensive experience establishing and leading bioanalytical teams in pharmaceutical, biotechnology and manufacturing companies, as well as CROs. He and his teams have supported the development of a broad range of therapeutics in pre-clinical and clinical-trial laboratories. Prior to founding BioAgilytix, he was the Director of Ligand Binding and Immunoassay, operating under GLP at AAIPharma. At Talecris BioTherapeutics, he led the Preclinical and Clinical Assay Development team, building on his experience as a senior scientist at Nobex Corporation, GlaxoSmithKline and IGEN International.
Safavi is considered an expert in the area of immunoassays, with a wide working knowledge of various platforms. He obtained his BS in Biochemistry from UCLA (CA, USA), his PhD in Biochemistry from the University of Kentucky's Medical School (Department of Biochemistry) (KY, USA), and he completed a 2-year postdoctoral assignment at Emory University's Department of Pathology (GA, USA).
---
In my previous articles published on Bioanalysis Zone in July, August and September 2015, I briefly described how I established a successful CRO using personal credit, surrounded myself with an 'A' team, and won client trust. In this article, I would like to share with you another essential strategy that every growing CRO must undertake: building partnerships with other CROs. I will review some of the initial factors that should be considered during the partner selection process and point out items for continued evaluation once an alliance is established. By nature, the idea of CRO partnerships is attractive to Executives and Business Development Teams because such alignments equip their CRO with a more comprehensive, and thus competitive list of service offerings. However, many of us are guilty of prematurely entering the courtship stage of partnership before key elements of the collaboration are thoroughly defined. This article is my attempt to share the dos, and most importantly, the don'ts in establishing mutually beneficial alliances with other CROs.
In order to find an appropriate partner, each CRO must first determine what they need from a partnership. For example, a small CRO with very specialized service offerings may choose to team up with a larger CRO who lacks this particular service. In this case, the small CRO would benefit from exposure to more clients and the large CRO would acquire an expanded repertoire of service offerings, thus enabling them to become a 'one-stop shop' for customers. Synergistic alliances such as these are capable of generating additional unforeseen perks as well. For example, the aforementioned small CRO could also work to fill other service gaps at the large CRO, thus expanding their own market reach and areas of scientific expertise.
Click here to view all other articles in this series.
Click here to view BioAgilytix's company profile.