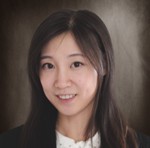 Xiwei (Emmi) Zheng, Scientist at Celerion (Lincoln, NE, USA)
Xiwei (Emmi) Zheng received her BS degree in Chemistry from Jilin University (China) in 2010, and her Ph.D. degree in analytical chemistry from Dr. David Hage's research group at the University of Nebraska-Lincoln (UNL, USA) in 2015. Her research at UNL has mainly focused on the study of drug-or hormone-protein interactions by using the technique of high-performance affinity chromatography (HPAC). She has developed novel methods based on HPAC to rapidly and efficiently measure the equilibrium constants and rate constants for drug-protein interactions. She has won several awards for her work, including the best poster award at the 2012 FACSS meeting, the 2015 Alumni Graduate Research Assistant Award from the UNL Chemistry Department, and the 2015 Bioanalysis Young Investigator Award.
---
What are you current working on and what are your career highlights since winning the NIA?
I am currently working as a Scientist with the Method Development group in Celerion, Inc.'s Bioanalysis Department. This year, I was able to make my first step by transitioning from academia into industry. I am very passionate about my current job developing  bioanalytical methods and assays to study novel drugs and compounds as well as their analysis in clinical samples.
What did you hope to achieve when you entered for the award?
I greatly appreciate my Ph.D. advisor Dr. David Hage, who gave me a lot ofsupport and help in my application. Applying for this award has definitely provided me with a great opportunity to meet other experts in this area. It has also allowed me to share and discuss my research work with them.
What was the impact of receiving the NIA?
This reputable award not only gave me encouragement and recognition to my previous work, but also stimulated me to work harder in future. It turned out that I received more than just an award. Receivingthe NIA hasplayed a paramount role in my job applications especially as it has helped me stand out in interviews, particularly in my transition to industry.
What are your longer term plans?
During my graduate studies i desired to be a scientist in industry. Now, I am working as a scientist in Celerion, Inc. and contribute my skills to various types of projects. I am able to co-operate with many experienced experts in this area. My longer term plans are to integrate my knowledge with others so that more people can benefit from our research in future. Although I am still on the way to become amature scientist, I believe with the great opportunity offered in my current job I will grow to become an experienced expert in this area in the near future.
What advice would you offer to other scientists new to bioanalysis?
To be creative, keep curious and enjoy your research and life. You will see the fun of research.
Would you recommend entering the NIA?
I would definitely recommend young scientist to apply for the NIA. This is a great opportunity to share your work to the global bioanalytical community . The awardprovides you with a great chance to know other brilliant scientist in this area and broaden your knowledge and network.
You will earn much more than you expected!