The Bioanalysis Zone and Bioanalysis team attended this year's 11th Workshop on Recent Issues in Bioanalysis (WRIB; LA, USA), 3–7 April 2017. We were particularly proud to support and present the WRIB Poster Awards to Annelies Codden, John Lowe and Neal Simmons.  Here, we feature the winning poster from Annelies Codden (Ablynx) as well as an exclusive interview.
Click the image below, or click here to view the winning poster: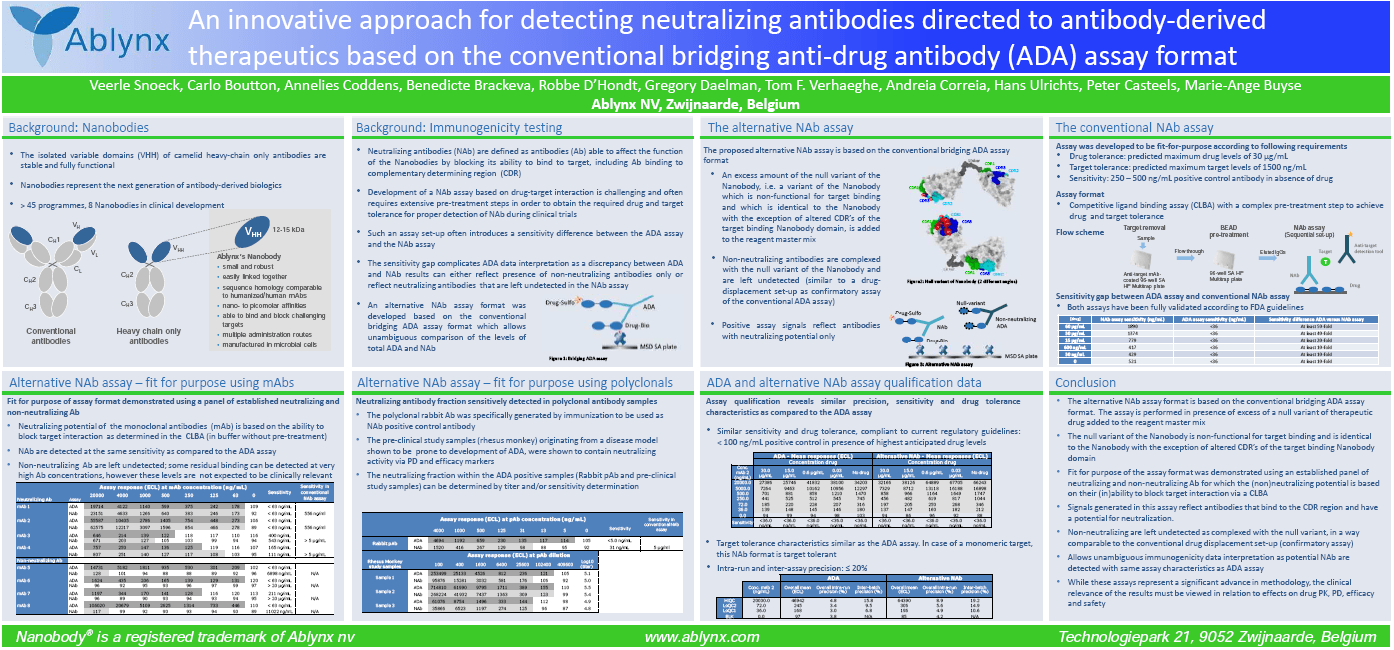 ---
What the Judges had to say
"…The neutralizing antibody detection approach described by Annelies, Aglynx, combined novelty and simplicity to deliver an effective and sensitive neutralizing antibody assay and made this poster really stand out." – Amanda Wilson (Head Pre-Clinical Bioanalysis & Toxicokinetics, AstraZeneca)
"An innovative approach based on a routine assay format – very creative, out-of-the-box thinking"
– Renuka Pillutla (Executive Director, Bioanalytical Sciences, Bristol-Myers Squibb)
---
Interviw with Annelies Codden
Annelies Coddens is a scientist in the Pharmacology Department of Ablynx, Belgium. She is a biotechnologist by training and obtained her PhD in 2008 in the Laboratory of Veterinary Immunology at the University of Ghent, Belgium. She continued her research as a post-doctoral researcher in the same lab and was author of multiple scientific publications and a patent application. She joined the BioAnalysis team of Ablynx in 2013, and was mainly involved in ADA and NAb assay development. Since 2016 she focused on immunogenicity testing of Nanobodies® and became responsible for ADA and NAb assay development, transfer and validation of both in-house and outsourced assays, in support of pre-clinical and clinical studies.
1
What is your role at Ablynx?
In my current role as immunogenicity assay expert in the Pharmacology department of Ablynx, I am overseeing ADA and NAb assay development, transfer and validation, for in-house and outsourced assays in support of pre-clinical and clinical studies
2
What were your first thoughts on winning the 11th WRIB Poster Award?
I was really surprised, but felt absolutely honored by the bio-analytical community. Knowing that we have worked hard on it with the team, this is really rewarding.
3
How did you carry out the work highlighted in this poster?
The development of this novel approach for detection of NAb was a real team effort.
The concept was mainly driven by Veerle Snoeck and further worked out by a team of bioanalytical scientists and colleagues from the Discovery and CMC Department who made this new approach possible and designed and produced the null variant of our drug molecule, which is the key in this novel concept for NAb testing. I contributed especially in the development and qualification of this assay which was done by immunogenicity lab scientists under my supervision. I am privileged to work with highly talented and motivated assay developers at Ablynx. The development of this assay format required strong cross-departmental cooperation, which at Ablynx, a mid-size biotech company with about 400 employees, is easy to organize and runs very smoothly.
4
What were the key findings from this research
We describe an innovative approach for detecting neutralizing antibodies directed to antibody-derived therapeutics based on the conventional bridging ADA assay format.
In this assay, we use a null variant of the drug molecule, which is a non-functional variant of the drug that is identical to the drug, except for altered CDRs, hence is non-functional for binding to the target under evaluation.
Signals generated in this assay reflect antibodies with neutralizing potential as non-neutralizing antibodies are complexed with the null variant, in a way comparable to the conventional drug displacement set-up (confirmatory assay). Main advantages of this method are the ease of development and the detection of neutralizing antibodies at the same sensitivity of the ADA assay, which allows unambiguous immunogenicity data interpretation, and allows the detection of the neutralizing fraction within the ADA sample.
5
What are you looking forward to working on over the next year?
I am looking forward to the start-up of new projects with new bio-analytical challenges and to the progress we will make in ongoing projects. Ablynx has more than 45 proprietary and partnered programmes in development in various therapeutic areas (of which 8 are in clinical development).
And I hope Regulatory agencies will appreciate our novel approach for NAb detection and will endorse the use of this concept in our future programs.
You can view posters and interviews from the other award winners here.