In order to better understand articles published in Bioanalysis, the journal, we interview authors of research articles, methodology papers, perspectives and more. The interviews give a unique insight into an author's perspective.
In this feature, authors of Bioanalysis publications are asked about a wide range of topics, spanning from their research inspirations and the impact of their work, to what advice they would give to new bioanalysts and what they hope to achieve in the future.
Interested in reading more from Bioanalysis? Register for free to gain access to exclusive articles.

Latest interviews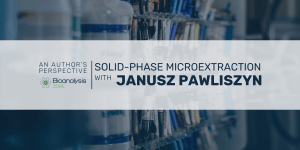 A solvent free future?
In this interview we caught up with solid-phase microextraction pioneer Janusz Pawliszyn, University Professor and Canada Research Chair (University of Waterloo, ON, Canada) and recent winner of the 2019 Talanta Medal. Janusz got us up to speed with the latest developments in coated blade spray techniques since his publication in Bioanalysis.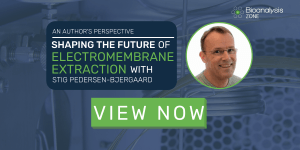 The future of electromembrane extraction
We caught up with Stig Pedersen-Bjergaard (Department of Pharmacy, University of Oslo, Norway) and asked him about the developments in his research into electromembrane extraction applications since his 2018 publication in Bioanalysis. Is there potential for electromembrane extraction in smartphone-based detection applications?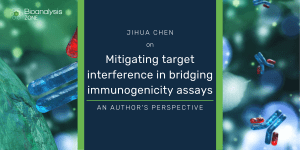 Mitigating target interference in bridging immunogenicity assays
Jihua Chen (Regeneron Pharmaceuticals, NY, USA) answers some of our questions probing his latest research publication and his current research focus. Jihua discusses the impact of the paper published in Bioanalysis and outlines some of the major challenges faced by scientists hoping to develop reliable and robust bridging anti-drug antibody assays.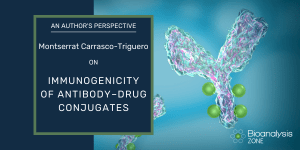 Evaluating the immunogenicity of antibody-drug conjugates
Montserrat Carrasco-Triguero (Genentech, CA, USA) answers some of our questions about the paper recently published in Bioanalysis: Immunogenicity of antibody–drug conjugates: observations across 8 molecules in 11 clinical trials. Montserrat discusses her inspiration and the next steps for her research.
Previous interviews
Series 4
Series 3
Series 2

Series 1

About Bioanalysis
The peer-reviewed journal Bioanalysis focuses on the techniques and methods used for the detection or quantitative study of analytes in human or animal biological samples. Bioanalysis encourages the submission of articles describing forward-looking applications, including biosensors, microfluidics, miniaturized analytical devices, and new hyphenated and multi-dimensional techniques.
Bioanalysis delivers essential information in concise, at-a-glance article formats. Key advances in the field are reported and analyzed by international experts, providing an authoritative but accessible forum for the modern bioanalyst.