What is coronavirus?
The coronavirus currently circulating (SARS-CoV-2 – the disease is termed COVID-19) emerged in December 2019 (in Wuhan, China) and is reported to spread mainly through person-to-person contact via respiratory droplets or through contaminated surfaces. Importantly, it has been reported that the virus could transmit even before the virus-positive individual shows symptoms [1]. As of 11 March 2020, COVID-19 was characterized as a pandemic by the World Health Organization (WHO) with new cases reported globally. With the increase in confirmed cases, researchers across the world are working together to find a low-cost easy-access protocol for early detection and a vaccine for protection.
Source, spread and symptoms of the virus
Coronaviruses are common in people and in different species of animals including cattle, cats and bats. Occasionally, people can become infected by animal coronaviruses such as MERS-CoV, SARS-CoV and now SARS-CoV-2. SARS-CoV-2 is a betacoronavirus and is believed to have originated from bats. Although the full clinical picture is not known, symptoms range from mild to severe with older people and those with underlying health conditions – lung disease, diabetes, heart disease – to be at a higher risk of developing serious COVID-19 illness. Symptoms include fever, cough, shortness of breath and can appear between 2–14 days after exposure [2].
A study conducted by scientists from the NIH (MA, USA), Princeton University (NJ, USA) and UCLA (CA, USA) reported that COVID-19 could live in the air for several hours and up to 3 days on certain surfaces [3]. "We're not by any way saying there is aerosolized transmission of the virus, but this work shows that the virus stays viable for long periods in those conditions, so it's theoretically possible," commented study leader Neeltje van Doremalen at the National Institute of Allergy and Infectious Diseases (MA, USA).
Laboratory testing for COVID-19 in humans
As scientists are sharing their research and insights to find therapies and cures for this deadly virus, WHO has released a series of documents to provide interim guidance to laboratories and stakeholders involved in laboratory testing of COVID-19. Molecular assays have been developed to detect COVID-19, with some assays detecting other strains such as SARS-CoV, which is genetically similar. In some cases, research groups are willing to share their reagents and mixes along with protocols [4].
Researchers based at the German Center for Infection Research (DZIF) at Charité – Universitätsmedizin Berlin (Germany) developed a diagnostic assay to detect COVID-19 that uses real-time reverse-transcription PCR. The assay protocol has been published as WHO interim guidance was used in laboratory testing for suspected human cases of the virus [5].

Another diagnostic assay is in development from Mobidiag (Espoo, Finland) a molecular diagnostics company working in partnership with Autobio Diagnostics (Zhengzou, China) and Automobi Molecular Diagnostics (Zhengzou, China). The new diagnostic assay will be fully automated combining real-time PCR and microarray technologies. These technologies allow single and high-plex diagnostic applications [6].
The bioanalytical laboratory fights against COVID-19
As different assays continue to be developed to detect the virus, companies are now turning towards developing a treatment for COVID-19 once diagnosed. QPS (DE, USA) have announced the formation of an access restricted bioanalytical laboratory that will analyze COVID-19 trial samples to support the development of a treatment. WHO has reported that there are currently more than 20 vaccines in development globally, with several therapeutics in clinical trials [7].
In March 2020, QPS' Newark-based bioanalysis lab received a permit from the US Centers for Disease Control and Prevention (GA, USA) to facilitate their work at biosafety level two (the classification of COVID-19). The granted 'permit to import infectious biological agency, infectious substances and vector' covers human blood, human blood products, other bodily fluids and tissues that could contain novel coronavirus. Benjamin Chien, CEO (QPS) explained: "In the fight against coronavirus, drug companies need ready access to laboratories equipped to safely manage and analyze samples from ongoing and new clinical trials focused on COVID-19. We've assembled an isolated, restricted access laboratory ready and available to support the life sciences community in determining the safety and efficacy of potential vaccines and treatments for COVID-19 as quickly as possible."
As the world continues to watch the progression and impact of COVID-19, scientific collaborations of committed drug companies are vitally important to detect, diagnose and treat those affected by the novel virus.
---
References:
---
Related news: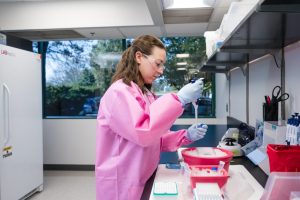 1Assay for safe and easy testing of novel coronavirus in development
2Researchers develop the first diagnostic assay to test suspected cases of novel coronavirus
3 Bioanalysis lab prepared by QPS to aid fight against COVID-19
4 FDA issue emergency use authorization to Thermo Fisher Scientific for COVID-19 diagnostic test