International Women's Day: A day in the life of…Stephanie Cape
---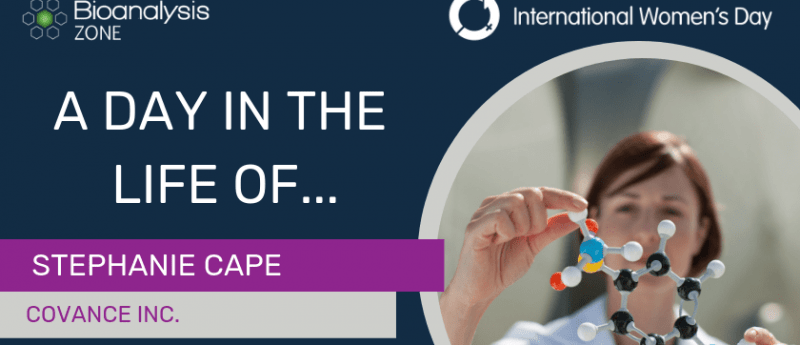 Stephanie Cape, PhD
Scientific Director, Bioanalytical Chemistry, Covance Inc. (WI, USA)

Stephanie Cape, is the Scientific Director for Bioanalytical Chemistry at Covance, Madison, WI. She received her BS in Chemistry from University of IL- Urbana/Champaign (IL, USA) in 2003 and her PhD in Analytical Chemistry from the University of Wisconsin-Madison (WI, USA) in 2007. Dr Cape's graduate research was focused on developing high-resolution mass spectrometric methods to enable discovery, characterization, imaging, and quantitation of neuropeptides.

Stephanie joined the field of regulated Bioanalysis as a method development / validation chemist initially at PPD (WI, USA) and subsequently at Covance. Within the Covance Bioanalytical team, she has held a variety of leadership roles including oversight of bioanalytical study direction, validation, and method development. Additionally, Stephanie serves as the primary operational lead for on-site regulatory inspections and participates in aligning global SOPs and best practices to industry standards.
1

My alarm goes off…

Very early in the morning, and I head to the gym. Mornings are hectic as everyone tries to get out the door on-time. It's amazing how many different places one little boy can lose his hat/boots/backpack/you name it. After daycare drop-off, I get to work early for teleconferences with colleagues across multiple time zones, or just to get a head start on the day. I really like to have some time in the mornings to organize my day before everyone else gets in the office.
2

I'm responsible for…

My work within a CRO is quite diverse. I've held a variety of positions within the regulated Bioanalytical space and therefore tend to be involved in many projects and initiatives. I'm responsible for the method development and validation teams at the Madison site as well as collaborating with my colleagues globally to ensure harmonization and alignment. Additionally, I stay involved in the external scientific and regulatory space through participation in industry groups. These teams and forums are incredibly important to facilitate communication and collaboration throughout the industry.
3

My typical day…

My role is quite diverse and allows me to engage with a variety of teams. I am privileged to work with many great colleagues and customers. I have frequent meetings with my staff in which we discuss career development, project progress, and potential solutions to any obstacles we are encountering. As scientists, we also enjoy collaborating to support each other's continuous learning by sharing ideas and perspectives on current topics in the industry such as new technologies or applications. I also interact routinely as a member of the global Covance Bioanalytical leadership team. In this role, my colleagues and I are challenged to contribute to defining strategic objectives and delivering against them. I find that the diversity of perspectives, helps to ensure we are considering the bigger picture and the needs of the global market. My son loves it when I take early meetings from home so he can hear all the beautiful accents from around the world.
4

The strangest thing that has happened…

Being in the CRO world, we get to work with a very wide variety of clients on all kinds of different molecules and matrices. Troubleshooting gets interesting at times when you are trying to figure out the best way to homogenize fingernails or when you're looking around the lab to see if anyone has any leftover urine in the freezer.
5

The best part of my job…

The best part of my job is that I get to do interesting science with great people to help patients. I'm so fortunate to be in a position in which I am constantly learning and developing while surrounded by people all focused on delivering for our customers and ultimately improving lives.
6

The worst part of my job…

There are not enough hours in the day!
7

After work…

Outside of work, I am a typical soccer/basketball/baseball Mom to a very active 8-year old boy. You'll notice we have all seasons covered, so there is not much time off! When we do have a free day, my family and I like to spend time at the farmer's market, attending outdoor festivals (there are a lot of outdoor festivals in the Summer in Wisconsin), or just hanging out.
8

I always wanted to be…

When I was a child, I didn't know what I wanted to be when I grew up. Being a scientist never really crossed my mind. I knew that I was good at math and problem solving and I wanted to help people. I found my right role over time as I learned more about how to apply my skillset in a position where I could make an impact.
Who is your inspirational hero?

I admire different traits in many different people. I seek to learn something from everyone I meet. That said, if I had to choose just one female hero …Wonder Woman is a badass!
---