In what areas are the outsourced work you send/receive from?
---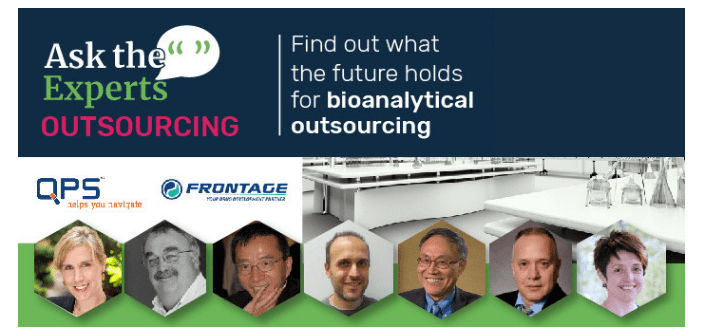 In what areas are the outsourced work you receive from?
In addition to being one of the world's largest Phase I site offerings, QPS provides fully integrated services to seamlessly move your project through early clinical development into Phase II/III and beyond. Our full range of clinical management services includes; Project and Program Management, Site Management and Monitoring, and Patient Recruitment Services. We provide the efficient data management, interpretation and analysis that are vital to the success of your overall study.
Non-regulated and regulated bioanalysis for preclinical and clinical development areas.
Richard Hucker (A4P Consulting)

Our provision of expert resource and knowledge in delivering the management and oversight of contracted bioanalysis predominantly runs from the early pre-clinical regulatory space through the clinical development phases to the post marketing product development arena where this is impacted by regulatory considerations. We also have in-house experience of early discovery bioanalytical support and the interface of clinical development programs and diagnostic solutions required in biomarker development and deployment.
We do not really specialize in one area. We focus on product development rather than discovery. We focus on product development, from pre-clinical to phase two, so the whole spectrum of service.
Stephanie Pasas-Farmer (BioData Solutions)

At BioData, we support clients at all stages of development from early discovery and product strategy development to post marketing bioanalysis support. Early in our client's project's life cycle, we can assist in critical reagent/reference material strategies. In addition, we help with CRO selection, qualification and management providing due diligence and audit services. For CRO oversight, we can provide assay management, data review both from a scientific as well as regulatory point of view, through IND to BLA/NDA submission and beyond. For regulatory support, we advise clients during regulatory authority questions and interactions and help with any questions from clients or the health authorities.
In what areas are the outsourced work you send?
Lee Abberley (GSK)

Within the BIB area, we outsource primarily GLP and clinical studies for small molecule and clinical studies for large molecule projects. Specific types of work are supported internally, however, if projects are especially challenging from an analytical or timing perspective, or the required instrumentation is not available at a third party, these would certainly be supported internally. Maintaining internal capability also gives the opportunity to help troubleshoot externally placed work in a collaborative way.
We strategically form partnerships with a few preferred providers (CROs) to support both discovery and development work.

Internally we focus on providing high value and quick turn-around on the discovery supports at lead optimization and late lead optimization. This includes both small molecules and peptide/protein half-life extension platforms, where mass spectrometry plays a major role for both quantitation and catabolites identification – this is pivotal knowledge for optimizing the back-up compounds.

We partner with other groups to outsource entire early discovery program packages (chemistry, biology, in vitro and in vivo) with preferred CROs. We are responsible for the in vivo package including formulation, dosing, bioanalysis and pharmacokinetics.

For programs post new molecular entity, we outsource the entire good laboratory practice bioanalysis work as well as bioanalytical assay development and validation to few preferred providers. The same can be said for the clinical studies. We function as study monitor to ensure on-time quality data delivery within budget.
< Back to - Ask the Experts: outsourcing

---