Conference and event highlights: October to December
---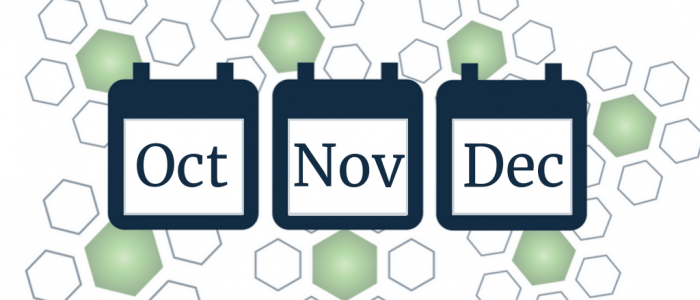 As we wave goodbye to the summer and welcome in autumn, the Bioanalysis Zone team are preparing for a busy few months. Scroll through our conference and event highlights for the next 3 months below, and don't forget to check out our full, comprehensive list on the Bioanalysis Zone events pages.
Also, to help us cover as many bioanalytical events as possible, if you are attending a conference or event and would be interested in writing a conference report please contact Naamah Maundrell ([email protected]) for more information.
OCTOBER
13–16 October: 15th Annual Meeting of the Oligonucleotide Therapeutics Society
In 2019, the 15th Annual Meeting of the Oligonucleotide Therapeutics Society is taking place in Munich, Germany. The scientific organizing chair is Gunther Hartmann (University Hospital Bonn, Germany) and the session topics will include, exon skipping, immunomodulatory oligonucleotides, preclinical and clinical applications delivery, CRISPR and safety amongst others. This year the organizers have announced that the clinical trials session of the annual meeting will be extended by 30 minutes – due to the increasing volume of new clinical data – and two late breaking clinical data short talks will report exciting new results.
More details and registration can be found on the Oligonucleotide Therapeutics Society website.
15–18 October: 11th Annual Immunogenicity and Bioassay Summit 
CHI's Immunogenicity and Bioassay Summit is now in its 11th year and promises to examine the challenges currently facing the industry and provide new case studies, new perspective and new approaches. With featured speakers from academia, industry and regulatory authorities this year's summit presents three conference programs, a symposium, training seminars and a range of short courses.
For more information and registration please visit the Immunogenicity and Bioassay Summit website.
17–19 October: Global Experts Meeting on Frontiers in Biosimilars and Biologics Congress
This Biosimilars and Biologics Congress 2019 will bring together scientists, researchers, business development managers, CEOs, directors, IP attorneys, regulatory officials and CROs from around the world. Many biologic products are making their entry into the pharma market and experiencing a notable rise in their usage over the conventional medications.
Biosimilars 2019 promises to give you an opportunity to meet target audiences from around the world who are focused on learning about biologics and biosimilars. This conference is one of the best opportunities to reach the largest assemblage of participants from the biosimilars and biologics community.
For a full list of confirmed key note speakers, more information and registration please visit the Frontiers Meetings website.
28–31 October: CPSA USA 2019
The 22nd Annual Symposium on Clinical and Pharmaceutical Solutions through Analysis (CPSA) is taking place in Langhorne (PA, USA). This event will feature updated perspectives and experiences on clinical and pharmaceutical analysis from industry leaders. CPSA encourages open discussion in an interactive and educational environment through roundtable discussions, colloquia, symposia and short course features.
More details and registration can be found on the CPSA website.
---
NOVEMBER
3–6 November: AAPS PharmSci 360
The annual American Association of Pharmaceutical Scientists: PharmSci 360 combines the 'energy of a large conference,' with the 'intimacy of a small niche gathering' and this year, takes place in San Antonio (TX, USA). Divided into five tracks, which are sub-divided further into chemical and biomolecular areas, there are plenty of opportunities for open discussion and learning.
Registration is open to attend this year's conference, for more information please visit the AAPS PharmSci 360 website.
The Bioanalysis and Bioanalysis Zone team will also be attending! If you are attending, it would be great to meet you. Email Naamah Maundrell ([email protected]) to put something in our diaries.
5–7 November: Bioanalytical and Formulation Summit
The Bioanalytical and Formulation Summit 2019 will run as a 3-day stream as part of BioProduction Congress. The summit promises to unite over 45,000 pharma professionals from around the globe and more than 2,500 international exhibitors.
Hosted in Frankfurt, Germany, the bioanalytical stream of the summit will cover bioanalytical method development, validation and transfer; protein characterization; bioassay and formulation and stability testing for pharmaceuticals.
For more information, including a full list of guest speakers and registration details, please visit the Bioanalytical and Formulation Summit website.
12–15 November: TIDES Europe
This year TIDES Europe: Oligonucleotide and Peptide Therapeutics is taking place in Amsterdam, Netherlands. This event will focus on recent developments in oligonucleotide and peptide therapeutics and will be hosting more than 40 case studies, 30 leading exhibitors and more than 400 oligonucleotide and peptide scientists and executives.
To view a full list of confirmed speakers and to register for this year's event, please visit the TIDES Europe website.
18–22 November: PEGS Europe
PEGS Europe claims to be the largest European event covering all aspects of protein and antibody engineering, including expression, immunotherapy and engineering. This year's event, the 11th Annual Protein and Antibody Engineering Summit will be held in Lisbon, Portugal and hopes to capitalize on the success of previous years through presentations, poster sessions, networking opportunities and more.
Registration and further information can be found on the PEGS Europe website.
20–22 November: EBF 2019
Since 2008, this annual open symposium has become a landmark for bioanalytical discussions in Europe. The 12th Annual European Bioanalysis Forum will encourage and facilitate networking and open discussions during sessions and presentations to contribute to the development of an open bioanalytical mind.
This year, plenary sessions will include discussions based on automation in a regulated bioanalytical lab, the impact of new (draft) regulations, patient-centric sampling, pharma collaboration, e-Environment, microsampling and much more. For registration details and more information please visit the EBF website.
The Bioanalysis and Bioanalysis Zone team will also be attending! If you are attending, it would be great to meet you. Email Naamah Maundrell ([email protected]) to put something in our diaries.
---
DECEMBER
4–7 December: 32nd Annual Tandem Mass Spectrometry Workshop
Running for over 30 years, this workshop provides a forum for sharing the latest mass spectrometry developments related to peptides, lipids, metabolites, contaminants and more. The format is informal and designed to stimulate discussion for a maximum of 110 participants.
Registration is open to attend this year's conference, held in Alberta, Canada. For further information and registration details please visit the Tandem Mass Spectrometry Workshop website.
---