Microsampling has gained increasing attention within the bioanalytical community in recent years. As newer, more sensitive bioanalytical instruments and novel microsampling technologies continue to develop, facilitating the application of microsampling in simpler workflows is now easier than ever before.
As interest continues to grow in this field we are pleased to bring to you this special interactive supplement from Bioanalysis Zone exploring Microsampling. The supplement brings you the latest developments and leading opinions from some of the key experts within the field. We take a look back at how the field has developed since our last examination of the subject in a Spotlight hosted 2 years ago on the Zone; Microsampling the road ahead.
We explore how attitudes have since changed in our recent survey and explore the various directions of microsampling with contributions from leading experts in academia, pharma and CROs.
Click here to view the supplement in full or select contents from the links below:
View our panel discussion now to hear from some of the experts who helped put this feature together. Craig Aurand, Roger Hayes, James Rudge, Tim Sangster and Neil Spooner joined us online for a lively dialog on the findings of our recent survey on the changing attitude to microsampling. They also addressed what the progress of microsampling means for the community, the remaining challenges and how we can overcome these. Importantly, they answered your questions!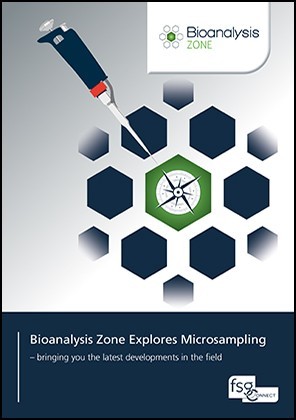 How the past may bring the future to disease diagnosis? by James Rudge (Neoteryx)
Microsampling: where are we now? by Tim Sangster (Charles River)
Microsampling: where the road ahead has since led to? by Ayan Ali
Microsampling 2 Years on – Survey Infographic
Will microsampling become routine in bioanalysis? An interview with Roger Hayes (MPI Research)
Ask the Expert on Microsampling – Craig Aurand (SIAL)
Microsampling: there is no such thing as the best technique by Hans Stieltjes & Tom Verhaeghe (Jansen Development)
Interview with Neil Spooner (Spooner Bioanalytical Solutions) & James Rudge (Neoteryx)
Microsampling in sports drug testing: an interview with Laura Mercolini (University of Bologna)
Additional Resources on Microsampling:
| | |
| --- | --- |
| Information leaflet: Advancing Microsampling in Clinical and PK Research (BioSPME) | BioSPME offers an innovative approach for biological microsampling, while enabling the direct measurement of free fraction analyte to be determined. The BioSPME platform enhances traditional LC/MS applications while driving the future for direct MS analysis. |
| Information leaflet: Drug Protein Binding Affinity using BioSPME | In this study, a novel BioSPME microextraction device is evaluated as a rapid means of determining drug protein binding affinities from plasma. The SPME LC Tips with C18 fiber chemistry were compared to ThermoFisher Scientific Rapid Equilibrium Dialysis (RED) device for speed and simplicity in measuring binding affinity in rat plasma samples. |
| Information leaflet: HybridSPE®-Phospholipid Technology | The first of its kind, HybridSPE-Phospholipid technology was introduced in 2008. It fuses the simple, standardized methodology of traditional protein precipitation with the specificity of solid phase extraction (SPE) for the simultaneous removal of proteins and phospholipids from biological samples prior to LC-MS analysis. |
| Poster: LC/MS/MS Analysis of Drugs of Abuse using Biocompatible Solid Phase Microextraction (BioSPME) | This study demonstrates the benefits of Biocompatible Solid Phase Microextraction (BioSPME) over traditional "dilute and shoot" and protein precipitation methods for the enrichment of illicit drugs and drugs of abuse directly from biological matrices. The utility and unique selectivity of these sampling devices will also be explored. |
| Poster: Screening Method for Methamphetamine and Amphetamine Using DART®-MS Analysis Followed by Chiral Confirmation for D-Methamphetamine | In this study, Biocompatible Solid Phase Microextraction (BioSPME) fibers were used to determine the presence of methamphetamine and amphetamine in urine samples. |
| Poster: LC/MS/MS Analysis of Fentanyl and Related Analogs Using Biocompatible Solid Phase Microextraction | In this study, Biocompatible Solid Phase Microextraction (BioSPME) fibers were used to determine the concentrations for fentanyl, acetyl fentanyl, sufentanil, remafentanil, norfentanyl, acetyl norfentanyl, alfentanil, butyryl fentanyl, and cis-3-methylfentanyl in urine samples. The Bio-SPME extraction eliminates the many steps in the sample preparation method including the evaporation step which reduces time of preparation and solvent use. |
| Presentation: Depletion of Phospholipid Matrix Interference when Dealing with Small Volume Plasma Samples | HybridSPE-Small Volume plate demonstrated high recovery of methadone and associated metabolites across the concentration range along with depletion of proteins and phospholipids from the plasma samples. Unique approach to processing small volume samples enable a high degree of matrix removal when dealing with minimal plasma volumes. |
Don't forget you can also always revisit our Spotlight on microsampling – Microsampling the road ahead, hosted on the Zone a few years ago here.