Imperacer (Immuno-PCR) method for ultra sensitive quantification of Interleukin-6 to support clinical Phase III trial (Chimera Biotec)
---
Authors: Mark Spengler, Nina Juergens, Michael Adler


Affiliation: Chimera Biotec GmbH
An exploratory IL-6 Imperacer® assay with 1µl sample requirement per duplicate run was developed. A separate IL-2 Imperacer® microsampling assay allows parallel bioanalysis of IL-2 and IL-6 from less than 4µl sample for two separate duplicate runs at approx. 3 pg/ml sensitivity.
Exponential signal amplification on the Imperacer® platform allows reduction of sample volume to a few microliter, still maintaining single digit pg/ml sensitivity for study support wherever sample volume is critical.
Pharmacodynamic (PD) markers have great impact on the development of Biotherapeutics for treatment of various diseases. While cytokines are highly important PD markers, patient levels are often below sensitivity limits of standard ligand-binding assay (LBA) technologies. More so, pre-clinical PD biomarker assessment, in addition to sensitivity, often demands for minimal sample volume requirement (>5-10µl). IL-6 is an important PD marker in a variety of therapeutic areas, foremost autoimmune indications.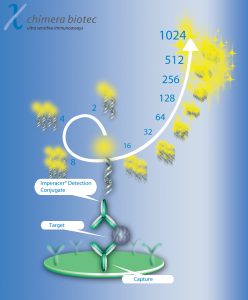 The full-validated Imperacer® method for clinical phase-II/III bioanalysis fulfills all BMV guidelines for biomarker LBA methods, with an assay range of 0.3 – 5000 pg/ml (LLOQ: 0.3 pg/ml). The method allows duplicate testing with sub-pg/ml sensitivity from 35µl sample. In contrast, an exploratory IL-6 chemiluminescence assay (Chimera Biotec), with an assay range of 0.5 – 1500 pg/ml, has approx. 80% higher sample requirement of 200µl for duplicate runs. Extreme sensitivity of the Imperacer® IL-6 method in combination with +4 log assay range leads to excellent performance in clinical study support of 9000+ samples. Imperacer® exponential signal amplification allows further reduction of sample requirement by appropriate sample dilution.
Click here to read the full article.
---