What does your organization believe is important when outsourcing/being selected for outsourcing?
---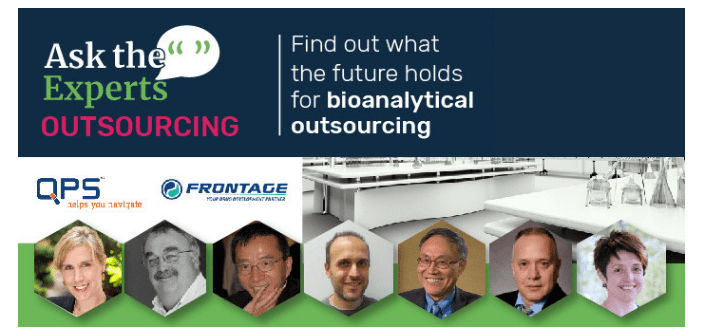 What does your organization believe is important when being selected for outsourcing?
Our commitment is focused on listening and working with our sponsors by providing expertise and knowledge in the pre-clinical and early clinical development of their compound. We are also committed to employing innovative use of new technologies to provide a tailored solution for our sponsor's specific needs. QPS' flexibility to provide different cost options for specific services requested while still providing quality execution of the project, strict adherence to timelines and budget and stability in staffing are keys components to our success.
Marco Michi (Aptuit)
The possibility to drive small and medium biotech thorough the development process.
Richard Hucker (A4P Consulting)

Achieving effective and documented oversight of outsourced activities is a paramount objective for us to achieve. Sponsors have to pay increasing attention to their accountabilities for outsourced generated data. Thus, considering and assessing how to deliver the extent of oversight and management of each project is a key factor. We suggest that requires an insight and a perspective on drug development across a number of therapy areas and appropriate expertise coupled to flexibility in approach.

We also believe a vitally important factor in bioanalysis outsourcing is being able to place the primary technical objective into context. Simply being able to measure something does not necessarily mean that the generated data is relevant or will be of value to the wider development activities and objectives. Furthermore, the application of regulatory guidelines in an arbitrary manner irrespective of their context relative to the objectives of the data is also an area of that can be wasteful of effort or worse potentially misleading. Indeed, this has begun to be addressed for example in a recent White paper from the EBF on towards decision-based acceptance criteria for bioanalytical method validation [1].
We do almost a one-stop shop. I think what's really important is your technique, scientific expertise, quality and also the fast turnaround to deliver the high quality results.
Stephanie Pasas-Farmer (BioData Solutions)

Hands down, quality is key, which stems from a deep understanding of regulatory requirements from both a regulatory compliance and a scientific intent perspective. Thought leadership and work style fit is also important. Biodata Solutions clients require different types of interactions and different levels of support from a CRO, so this is taken into consideration when assisting study placement with a lab. For example, a small biotech might have limited bioanalytical expertise internally, so they would require a lab with the ability to work independently, as an extension of the team. However, another client might need additional capacity assistance, but the expertise is retained in-house. In turn, this group would need to take instructions and follow them specifically.
What does your organization believe is important when outsourcing?
Lee Abberley (GSK)

When selecting an external provider to support bioanalytical work, the highest priority consideration is given to capability and capacity. Quality, location and price are also very important, and typically we weigh up a combination of factors when deciding on placement of work. Location may be a key driver e.g. sample analysis in China, or specific instrumentation or expertise may be necessary, e.g. high-resolution mass spectrometry.
A lot of bioanalytical study monitors (and some CROs) will say they will want to get the highest quality data with lowest cost and fastest delivery. That sounds good, but it falls into the triple constraints that the project management (PM) textbook says is not always possible.

Personally, I am not big fan of the doctrines for rigid PM but I tend to agree with them on this point. When we outsource work we have to understand the risks and know how to mitigate them. The three constraints are always in constant dynamic shifting, depending on the nature of the compound and stage of the program.

Do we need to have the same quality standard and documentation details for an early discovery program versus a program already in GLP or clinical stages? Probably not, but one still needs to ascertain what constitutes the acceptable standard at each stage. Do we always need the fastest delivery? That may come with higher costs and decreased quality. If planned appropriately, one should always try to balance the three elements to the maximal benefit of the program.

With acceptable quality, cost and delivery, we consider long-term relationships and transparency as important elements when working with CROs. Things may not always work out as planned and those who are willing to share bad news with total transparency always go a long way.
< Back to - Ask the Experts: outsourcing

---