Interview with Peter Ketelaar and Chad Briscoe on PRA's new bioanalytical lab and the importance of co-located laboratories
---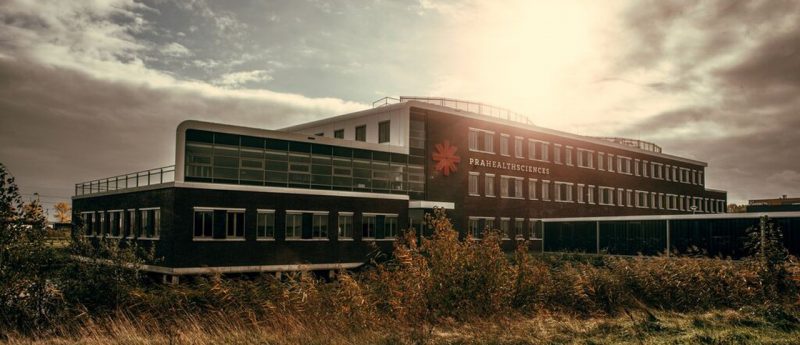 PRA Health Sciences (NC, USA) recently opened a new Bioanalytical Lab in Assen, the Netherlands. PRA has over 30 years of bioanalytical services experience. As one of the leading global CROs, PRA works side-by-side with clients to move drug discovery forward, helping them to develop life-saving and life-improving drugs.
With more than 11,000 employees working in 80+ countries, PRA provides comprehensive clinical development and bioanalytical services across all phases, PRA has worked on 100+ marketed drugs across several therapeutic areas and conducted the pivotal or supportive trials that led to US FDA and/or international regulatory approval of 50+ such drugs.
Peter Ketelaar (MSc, Vice President, Global Bioanalytical Services) and Chad Briscoe (PhD, Executive Director, Global Bioanalytical Science and Innovation) talk about their respective roles at PRA and PRA's new bioanalytical lab.
---
Could you tell us about your roles at PRA Health Sciences?        
Peter: I have global responsibility for bioanalytical services. PRA has laboratories in Europe (Assen, the Netherlands) and in the USA (Lenexa, KS). Since coming to PRA in 2005, I have expanded the bioanalytical organization from a local to a global player, supporting all our global sponsors and PRA's clinical activities in all phases of development. Growth, innovation and integrated strategies have been, and always will be, PRA's most important strategic drivers.
Chad: 6 years ago I joined PRA in order to establish a laboratory for PRA in the USA. 2 years ago I was asked to focus my role exclusively on bioanalytical science allowing me to take a global role leading PRA's Bioanalytical Science teams in the USA and the Netherlands. I spend a lot of time helping customers find solutions to their most challenging bioanalytical problems. I also watch market trends in technology and regulations to ensure PRA will be ready to solve any future bioanalytical challenges. Finally, as the Senior Executive in PRA's Kansas laboratory I continue to oversee the lab I started.
Could you tell us a little about your new laboratory in Assen?
Peter: PRA's new laboratory in Assen is 33,000 square feet, 25 % larger than our previous lab, and it provides all relevant bioanalytical services. We outgrew our previous location and needed to expand. PRA wanted to build a dedicated laboratory where more efficiency gains could be achieved and more space was available for innovative technologies like flow cytometry. The laboratory is managed, staffed and supported by industry-leading experts who have the scientific knowledge and expertise necessary to successfully deliver studies of varying complexity. PRA employs more than 400 workers in the Netherlands, including nearly 140 in the laboratory.
Why was Assen selected as the location?
Peter: Assen was selected for two reasons. First, our previous facility was also located in Assen and therefore most of PRA's bioanalytical employees live close by so for them, our most important asset, it is convenient to have their work close to home. Loyalty is one of the strengths of the organization. Second, the lab is located near PRA's clinical pharmacology units in Groningen (Netherlands). This close proximity facilitates the execution of complex and adaptive studies.
Why was Kansas selected as the site for the US laboratory?
Chad: We considered several locations for the labs but ultimately we realized that locating the laboratory near our Phase I site in Lenexa, Kansas would be the best solution for our sponsor's clinical trials.
So it seems co-located laboratories are important in clinical trials. Why?
Peter: PRA is a pioneer in the implementation of adaptive clinical trials in our clinics, and as I mentioned previously, the labs are an important part of that because of the quick turn-around of results that the labs can provide. This trend started in our Netherlands clinic where the regulatory environment is quite favorable to such an innovative approach. The reason why adaptive trials have become so important and popular with our sponsors is quite simply because they enable a faster and less expensive drug development process. Adaptive trials are a great way to get more information more quickly to move a drug forward, or, as is often necessary, the ability to adjust plans to get the critical information needed without restarting a new trial.
How does PRA ensure a fast turnaround of results?
Chad: That is a great question because it's one thing to say you can turn around data in 30 hours but another thing to do it reliably. I think we've got it pretty well figured out and we've successfully done it on over 30 studies in the last 5 years. Approximately half of those studies are in the USA and the other half in the Netherlands. I could probably write a paper on this topic. So, without going into too many details, there are four elements we find critical to ensure rapid turn-around times are achievable. First and foremost, you have to have robust assays. We have a structured approach to method development and we don't compromise quality, even if it takes a little longer. Our clients appreciate the reliable methods we develop when their data shows up on time cohort after cohort. Second, you must have the co-located laboratory facilities. This saves at least one full day for shipping, not to mention the added cost and potential for unexpected delays due to weather and other issues that come up. A robust operational planning system and proven experience are also key factors. These two go hand-in-hand. When you've done as many of these studies as we have, you figure out all of the challenges and issues that might occur and you build that into your planning systems.
What types of studies need this rapid turn-around?
Chad: I've found clients fall into two categories – those that need the rapid turn-around and those that want it. We don't really differentiate because if it is important to our sponsors, it is important to us. Generally, the types of studies are either first-in-man ascending dose studies, oncology trials, or any number of different study types that utilize flow cytometry. In the case of first -in-man studies, more and more sponsors need their PK data to make dose escalation decisions. With our rapid results we can make PK-informed dose escalations and adjust within a week. In oncology trials we are almost always talking about patients and the study drug is their treatment, so PK data is used by oncologists to make life or death healthcare decisions. With studies using flow cytometry, it is usually simply a matter of stability. Sometimes cells are not viable for more than 24 or 48 hours and immediate analysis is necessary in order to get useable data.
You don't usually hear about flow cytometry in Phase I studies, can you elaborate more on why that is important?
Chad: That is certainly true. There are a number of PD assays we have worked on that are useful to study the effect of the compound both intra- and extra-cellularly in dosed healthy volunteers. This means that they may be used to demonstrate efficacy of the test compound in Phase I. We may not know efficacy until we reach patients but with flow cytometry we can tell you that the drug is hitting its target. One example is assays that study expression of phosphorylated (transcription) proteins and cell-cycle status. I truly believe PRA's flow cytometry laboratories are unique in the CRO industry. We are research-grade, high-throughput operations accustomed to following strictly regulated bioanalysis guidelines.
Can you tell us about your future ambitions?
Chad: I love when I'm asked this as there are so many exciting things going on across PRA right now. Being a laboratory that is part of one of the world's largest CRO's, with the world's most comprehensive Phase I clinical organization, puts us in a unique position. One of the major initiatives within PRA's Early Clinical Development organization is our patient strategy. We run more patients in Phase I studies than any other CRO in the world. Therefore, in the labs we are looking at how we can respond to that. We are looking closely at what types of patients are coming into our studies and how we can enhance the outcomes of those studies with our lab work. The best example of this is our investment in flow cytometry. Also in the works is the development of targeted biomarkers and other services to align with this patient strategy. Another highlight coming soon at PRA is the implementation of a new Electronic Laboratory Notebook in 2016. We are always looking for ways to innovate and develop new strategies and solutions. We are proud to be a world class, global, full service, regulatory compliant and scientifically focused laboratory.
---