Intact protein LC–MS for pharmacokinetic and in-life study support
As biotherapeutics have emerged over the past decades in the pharmaceutical industry, quantitation from PK, TK and FTIH studies has been achieved by different means. Over time, mass spectrometry (MS)-based workflows have progressed to enable digestion-based peptide quantitation. Large molecule approaches contrast with small molecule quantitation methods, which have traditionally relied on precipitation or extraction methods followed by LC–MS utilizing a triple-quadrupole MS instrument. However, recent advances in immunocapture techniques and MS technologies have enabled selective enrichment of intact protein therapeutics from complex matrices followed by LC–MS, thus enabling intact mass detection of biotherapeutics from in-life studies.
What will you learn?
Can the intact LC–MS assay be held to traditional PK assay performance standards from a GLP validation perspective?
How do sample results from the intact LC–MS assay compare to established formats?
Can advantages of intact protein mass spectrometry (e.g. mass variant monitoring) be retained?
Who may this interest?
DMPK or protein characterization experts, regulators or government employees and academics or students wishing to learn more about the techniques
Speaker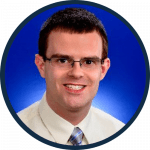 John Kellie
GSK Fellow & Investigator
GlaxoSmithKline
Dr John Kellie is currently a GSK Fellow in the Bioanalysis, Immunogenicity and Biomarkers group at GlaxoSmithKline (PA, USA). John received his BSc in Biochemistry from Indiana University (IN, USA) and his PhD in Chemistry from Northwestern (IL, USA) studying under Dr Neil Kelleher. He was a Post-Doctoral Scientist at Eli Lilly and Company (IN, USA) where he developed methods for intact protein quantitation of a Parkinson's Disease biomarker from human brain tissue. At GSK, John utilizes mass spectrometry for development of novel bioanalytical methods for biotherapeutic and protein quantitation from pre-clinical and clinical samples, with a focus on intact protein and large mass quantitation for catabolism, biotransformation and product quality attribute support.
In association with