Hybrid LC–MS assays reaching standards for regulatory filings
The growing interest in biotherapeutic drug analysis is increasingly requiring high-sensitivity assays for PK determination. Particularly, hybrid LC–MS/MS methods have been regarded as the best and possibly the only, valid alternative to traditional immunoassays.
This presentation will describe standard hybrid LC–MS/MS bioanalytical workflows for the determination of therapeutic antibodies in clinical and preclinical samples and validation of these methods for non-clinical and clinical PK evaluation, in accordance to the current guidelines. Specific emphasis will be given to the optimization of sample preparation aimed at producing robust and compliant methods across different matrices and species.
What will you learn?
How to define the optimal bioanalytical approach
How to apply LC–MS/MS method for the bioanalysis of biotherapeutics
How to address critical steps in sample preparation
Who may this interest?
Analytical chemists from biotech, pharma and CRO organizations
Analytical chemists/scientists supporting biologics development
Analytical lab managers and directors
Research labs and organizations focusing on large molecule drug discovery and development
Regulatory authorities
Speaker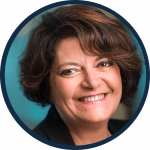 Fabrizia Fusetti
Director, Biologics & Mass Spectrometry
QPS
Fabrizia Fusetti leads the Biologics Mass Spectrometry team, in the Department of Bioanalysis and Drug Metabolism, at QPS (Netherlands B.V). Her team has developed and validated several LC–MS methods for the (regulated) bioanalysis of peptides, therapeutic proteins, monoclonal antibodies, ADCs and other drug conjugates. Fabrizia joined QPS in 2014, after having dedicated a large part of her career to fundamental and applied research projects, mainly focusing on the study of proteins and enzymes.