Whitepaper: Bioanalytical support in development of biologics (Chimera Biotec)
---
The Need of Sensitivity combined with broad Assay Range
– Case Studies
Therapeutic antibodies and other biotherapeutic macromolecule drugs (Biologics) often pose challenges in bioanalytical support. Safety and potency considerations frequently demand low dosing in dose-escalation trials and in consequence very sensitive ligand-binding assays (LBA) for PK support, even at late time points and despite fast drug clearance.
In addition a broad assay range with high upper limit of quantification is particularly favorable to cover PK analytics at early time points, for high dosing or during Tox evaluation. Ideally a bioanalytical method covers the full drug concentration range to enable PK profiling during the complete drug development program.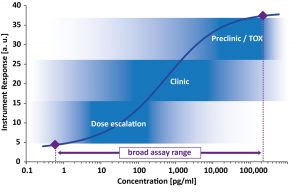 In this publication Imperacer® case studies demonstrate the advantage of broad assay range combined with excellent sensitivity for several Biologics on their way from R&D to clinics.
---