Winner of the 2021 BOSCA announced!
---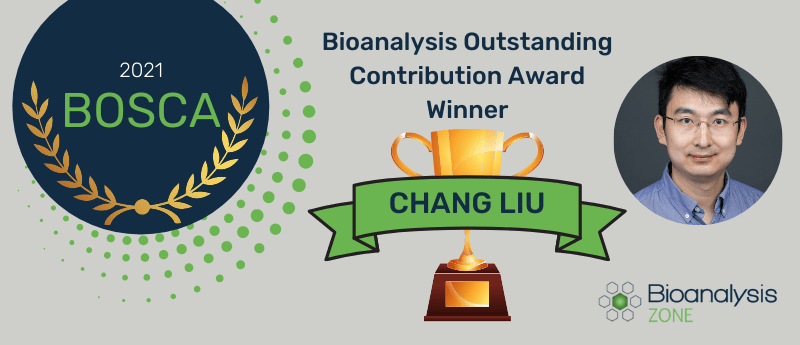 Bioanalysis Zone is delighted to announce the winner of the 2021 Bioanalysis Outstanding Contribution Award (BOSCA)!
Our panel of esteemed judges this year have unanimously agreed that Chang Liu (SCIEX, Vaughan, Canada) was the most deserving of this year's BOSCA for his outstanding research, influence and engagement in the bioanalytical community.  
Dr Chang Liu earned his BSc in chemistry from Peking University (Beijing, China) and his PhD in analytical chemistry from University of British Columbia (Vancouver, Canada). Chang joined SCIEX in 2013 as a Research Scientist where he has been working on front-end sample preparation and sample introduction technologies of mass spectrometry, and their applications for high-throughput analysis. Dr Liu was the organizer of the High-Throughput Mass Spectrometry and Affinity Selection Mass Spectrometry sessions for Pittcon (1–5 March 2020; IL, USA). He was the recipient of the Danaher Excellence in Innovation Award, CSC Ryan-Harris Award and ACS Analytical Chemistry Graduate Fellowship.
Chang's nominators had the following to say about his contributions: 
"[Chang] was central to the development of [Acoustic Ejection Mass Spectrometry (AEMS)] from the early idea concept to the design and construction of prototypes to the installation of and operational training for eight highly successful research breadboards at Pfizer (NY, USA), Merck (NJ, USA), Bristol-Meyers Squibb (NY, USA) and Boehringer-Ingelheim (Ingelheim am Rhein, Germany) which set the stage for a major commercialization effort and product launch by SCIEX in 2020."

Thomas Covey, SCIEX (Vaughan, Canada)

 
"As one of the early collaborators, we have witnessed Chang's sustained scientific excellence and creativity in designing, refining and optimizing the AEMS technology, as well as experienced the huge impact this technology has had in accelerating drug discovery at Bristol-Myers Squibb and many other biopharmaceutical companies"

Wilson Shou, Bristol-Myers Squibb (NJ, USA)

 
"I truly believe that without Chang, this groundbreaking technology would not come to fruit and the whole bioanalytical community [would have missed] a great opportunity to advance."

Hui Zhang, Pfizer (MA, USA)
---
We interviewed BOSCA winner Chang Liu about his current research and future perspectives.
1. What does a typical day in your current position entail?
My typical working day is full of exploration and excitement. Together with the team, we formulate and test various new ideas for technological advancement and the transition of validated concepts to the product team for commercialization consideration. 
2. What is your bioanalytical research focus?
My research focus in the bioanalytical field is to reduce the overall test turnaround time by improving the sample readout speed and simplifying sample preparation and method development efforts.    
3. How did you come to pursue these research interests?
When I joined the research team in 2013, SCIEX had been a leader in the field of MS quantitation for decades with the continuous technology advancement on LC–MS. However, in terms of the sensitivity and detection limits of the instruments, there wasn't much room left for further improvement. Instead, Tom Covey and I turned our attention to the system front-end, where samples are collected, processed and delivered to the mass spectrometer. Multiple bottlenecks reside here especially for the high-throughput analysis, including sampling speed, carryover, compatibility with high-density well plates and the necessary complicated sample preparation. Our goal is to develop a new technology that solves these bottlenecks. Faster quantitation helps improve new drug development and could enable more customized therapeutics through precision medicine. 
4. What drew you to pursue the development of AEMS?
There had been a dilemma for high-throughput analysis of choosing between speed and data quality. Fluorescence-based measurements could deliver high readout speeds, but the label-coupled endpoint may confound the results. The high specificity of MS could provide the high-fidelity and label-free analysis data, while the low analytical throughput associated with a conventional LC front-end imposes a practical obstacle to analyzing large sample sets (for example, a hundred thousand to several million-sized compound libraries). AEMS is our solution to providing the best of both worlds. I have been fortunate with this opportunity and enthusiastically working on this transformational technology. We think we have only scratched the surface of its potential to revolutionize the field of high-throughput analysis. If we are successful, in the years to come, high throughput AEMS could make a meaningful difference in the lives of people everywhere. 
5. What are some key analytical challenges you faced while developing AEMS? How did you overcome these challenges in your research work/how are you continuing to overcome these challenges?
Throughout the journey of developing the AEMS technology, the most exciting part has been exploring new applications. AEMS is not only a faster alternative to LC–MS, it also addresses many other challenges in high-throughput analysis. These unique features have enabled many novel applications in synthetic biology, poultry industry, direct bioanalysis, compound QC and in situ reaction kinetics monitoring. Such diverse workflows challenge us to further advance the system from various angles to establish this innovative technology as the workhorse serving different industries' needs. For example, we are working on a number of improvements such as expanding the capability of the system to acoustically dispense samples with a wide range of fluid properties, and integrated autotrigger data processing and visualization. In all these efforts we work closely in collaboration with external partners which allows us to actively test and modify hardware and software prototypes using real world samples and workflows. 
6. What are your future research goals? Are there any researchers/projects/technologies you believe we should keep an eye on?
In addition to further advancing the AEMS technology, including the addition of the high-resolution MS capabilities, I am excited to witness the change that high-throughput analysis brings to the industry. In my view, the next frontier will be to assess how to effectively utilize the rapidly generated large-scale data sets that can be captured with high-throughput analysis. We are working on AI-driven technologies that have the potential to assist in the design of new therapeutics faster and cheaper than is currently possible. In addition, the rapidly developing affinity-based Hit ID platforms such as ASMS and DEL is another area I have been following. We believe high-throughput MS analysis can bring significant value to this platform with further innovation. On the bioanalysis side, I am excited to see the rapid developments in more convenient and more precise blood microsampling technologies from patients, such as microneedles or absorptive polymer-based VAMS devices, which could eliminate the hematocrit effect in the sampling process. 
---